Co-operative News
Co-operative News, established in 1871, is the oldest co-operative newspaper in the world – and also, arguably, the oldest democratically controlled paper. It is published by an independent registered co-operative society, Co-operative Press Ltd. Membership of the Press is open to individual readers as well as to other co-operatives, corporate bodies and unincorporated organisations.
---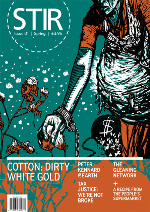 Stir
STIR started as an online magazine and has now launched as a quarterly print magazine that features articles and interviews on the international co-operative movement, the emergence of the commons and collaborative networks, and other community-orientated alternatives in technology, agriculture, food, sports, energy, education and other important aspects of our lives. We feature lots of original art from international illustrators and publish infographics on the themes we look at in each issue.
We are a reader-supported magazine and we are looking for subscribers to help us grow our magazine and build a strong financial base.
---
Communities
Communities magazine is the magazine of the US Fellowship for Intentional Community, the primary resource for information, stories, and ideas about intentional communities—including urban co-ops, cohousing groups, ecovillages, and rural communes.
Communities also focuses on creating and enhancing community in the workplace, in nonprofit or activist organizations, and in neighborhoods. We explore the joys and challenges of cooperation in its many dimensions, and pass the wisdom on to you and your community.
---
Cooperative Business Journal
Founded in 1916, the National Cooperative Business Association, CLUSA International (NCBA CLUSA) began as the Cooperative League of America until it was renamed the Cooperative League of the USA (CLUSA) in 1922, and then rebranded as NCBA in 1985. Today, now known as NCBA CLUSA, we are the oldest not-for-profit cooperative development and trade association in the United States, fostering cooperative and international economic and social development in the United States and abroad.
---