International Journal of the Commons
The International Journal of the Commons is an interdisciplinary peer-reviewed open-access journal, dedicated to furthering the understanding of institutions for use and management of resources that are (or could be) enjoyed collectively. These resources may be part of the natural world (e.g. forests, climate systems, or the oceans) or they may be created (e.g. infrastructures such as irrigation systems, the internet or (scientific) knowledge, for example of the sort that is published in open-access journals). The IJC is an initiative of the International Association for the Study of the Commons (IASC).
---
The New Economics Zine
The way the economy works isn't inevitable. It's run according to a set of rules that determine what its outcomes are. These rules are not naturally occurring things – we can change them. By changing the rules that govern the economy, we can reprogramme it to give it a new purpose. We can build a new economy that doesn't just follow the markets – one which is purpose-driven and creates human and environmental flourishing. This is the thinking behind this new zine from the New Economics Foundation.
---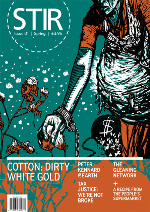 Stir
STIR started as an online magazine and has now launched as a quarterly print magazine that features articles and interviews on the international co-operative movement, the emergence of the commons and collaborative networks, and other community-orientated alternatives in technology, agriculture, food, sports, energy, education and other important aspects of our lives. We feature lots of original art from international illustrators and publish infographics on the themes we look at in each issue.
We are a reader-supported magazine and we are looking for subscribers to help us grow our magazine and build a strong financial base.
---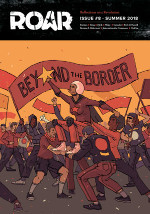 Roar
Independent coverage and critical analysis of world politics and current affairs — from a radical social movement perspective. The world-system is in crisis. Global capitalism and liberal democracy are crumbling all around us. Now more than ever, we need subversive commentary, engaged research and critical analysis to make sense of our tumultuous times and help stave off the coming global catastrophe. As an activist-run journal of the radical imagination, we consider it our mission to contribute to that collective effort.
---
Corporate Watch
Corporate Watch is a small independent not-for-profit research and publishing group which undertakes research on the social and environmental impact of large corporations, particularly multinationals. We aim to expose the mechanisms by which corporations function and the detrimental effects they have on society and the environment as an inevitable result of their current legal structure.
Corporate Watch strives for a society that is ecologically sustainable, democratic, equitable and non-exploitative. Progress towards such a society may, in part, be achieved through dismantling the vast economic and political power of corporations and developing ecologically and socially just alternatives to the present economic system.