Cryptobiz
Free e-magazine. Our mission is to observe and explore all aspects of the crypto world; including mining, financial trading, exchanges, development and business.
Our focus on all things "Crypto" includes exploring Coin Mining, Financial Trading and the Exchanges that handle Bitcoin and altcoins. We explain to our readership what Bitcoin and altcoins are, how they can be acquired and how and where to spend them.
---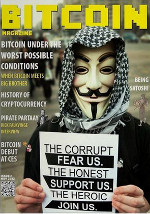 Bitcoin
Bitcoin Magazine's mission is to be the most engaging and accurate source of information, news and commentary about the Bitcoin and digital currency space.
Bitcoin Magazine reaches a diverse readership by covering current events in business, technology, politics, law and society with a wide variety of viewpoints and expert opinions.
Bitcoin Magazine seeks to provide enlightening commentary that is accessible to new Bitcoin enthusiasts as well as news and insights veteran users find invaluable.