British Dairying
British Dairying was launched in 1994 by Malcolm Bridges and Barry Wilson following the deregulation of the Milk Marketing Boards in Great Britain. A publication designed specifically for the dairy farming industry, British Dairying set out to keep dairy farmers up-to-date with the latest technical, scientific and economic news from the sector every month.
The editorial team of Mike Green and Barry Wilson plus a number of regular contributors from across the sector have all helped to build the magazine into the valuable resource it is today for tomorrow's successful dairy farmer.
---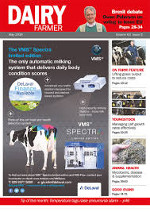 Dairy Farmer
Dairy Farmer has grown from its humble beginnings in 1929 to become the best read monthly dairy title for GB producers. We have our regular Cowmen Comment, On Farm and Vet View pieces, and these are backed up by the ever controversial and hard hitting columnist Ian Potter. All this is topped by a look at the humorous side of farming as seen through the eyes of our award-winning Roger Evans.
Dairy Farmer is the one-stop shop for all you need to know about dairy developments and is a must read for all those looking to prepare themselves for the challenges ahead.