Renew
Renew is the bimonthly digital newsletter of NATTA, the Network for Alternative Technology and Technology Assessment. NATTA was set up in 1976, with its base at the Open University. Renew was launched in 1979, and is now independent of the OU. Renew has been widely recognized as a leading source of up-to-date and reliable information on energy developments and policy.
Renew covers UK and world news and developments in the area of renewables and sustainable energy – bringing you updates on new wind, wave, tidal, solar, biomass, geothermal, hydro projects and technical breakthroughs. In addition, it offers critical analysis of the policy context in which these new energy supply technologies are emerging and operating. It also looks at energy efficiency, and at the wider debates over energy use and climate change, as well as challenging the idea that nuclear power will save us. Essential reading, really.
---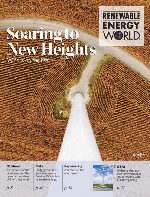 Renewable Energy World
With over 52,000 subscribers and a global readership in 174 countries around the world, Renewable Energy World Magazine covers industry, policy, technology, finance and markets for all renewable technologies. Content is aimed decision makers in power generating utilities, local or central governments, energy advisory or planning agencies, manufacturers of complete renewable energy systems, research / training establishments, aid agencies, large energy users, companies involved directly in renewables, owners/managers of renewable energy sites, consultants in renewable energy and other industries allied to the field. Publishing frequency is six times per year.
---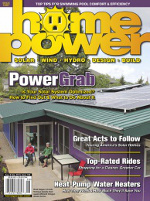 Home Power
Home Power magazine was published from October 1987 to November 2018. Throughout its 31-year history, Home Power played a central and indispensable role in the mainstreaming of residential-scale renewable energy systems. It provided a first-of-its-kind networking hub for end users, professional installers and equipment manufacturers to interact, share ideas and advance the use of renewable energy, energy efficiency, and electric vehicles. The site hosts Home Power's complete 31-year archive. The content encapsulates three decades of the history of the renewable energy movement in the U.S. and beyond. Each issue is available for non-commercial use at no cost to registered members of the site.