Positive News
Positive News is a quarterly international newspaper, founded in 1993 by Shauna Crockett Burrows. The publication focuses on issues rarely covered by the mainstream media and promotes the many individuals and enterprises that are working to create a more healthy, humane and environmentally sustainable world.
Positive News also tries to give a voice to all those small, determined fishes swimming against the tides of big corporate seas and award them for their efforts through honest, impartial media publicity.The UK edition of the paper is published by Positive News Publishing Ltd, a not-for-profit company based in Shropshire. Offices have since opened in New York, Hong Kong, Madrid and Argentina operating under the same ethos and monitored by The Positive News International Network. The paper flourishes thanks to the valuable support of its loyal readers in the form of subscriptions and advertising.
---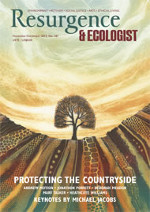 Resurgence & Ecologist
When Resurgence started, over forty-five years ago, it tackled issues that were only just filtering through to the mainstream debate. Articles were published on the endangered environment, renewable energy and ecological economics. E.F. Schumacher wrote regularly about the perils of chemicals in our food, the simplicity of Buddhist economics and the strength of 'Small is Beautiful'.Resurgence continues to publish articles that are on the cutting edge of current thinking, promoting creativity, ecology, spirituality and frugality. While the corporate world advocates 'free trade', Resurgence questions trade without responsibility and money without morality. While our governments define the 'national interest' and their politicians pursue power at all costs, Resurgence argues for politics with principles. While technology invades our lives in the name of speed and efficiency, Resurgence advocates science with a soul.
---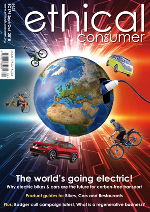 Ethical Consumer
Ethical consumerism is about more than life-style choices – it is also about challenging corporate power and improving government regulation. It's about being an activist at the checkout but also in the home, the work place and the community.
In 2001, we drew up a detailed manifesto of policy recommendations to the UK Government, covering a broad range of topics from tax avoidance to animal welfare, reflecting the broad research that we carry out and the issues we feel most passionately about.
The manifesto was composed of pragmatic demands and proposals from campaign groups, think tanks, industry, individuals and from ECRA itself. The manifesto is here.
---