A to B
'A to B' magazine started life as 'The Folder', the newsletter of the Folding Society in August 1993. Specialising in news and reviews of folding and separable bikes, the magazine went from strength to strength.
In August 1997, with 1,200 subscribers worldwide, they decided to float the magazine on its own. The new magazine had a new title 'A to B' and a new brief – to explore new ways of travelling from point A to point B. Naturally, as the most efficient transport integrator, the folding bicycle continues to feature strongly in the magazine, but it also covers electric bikes, bike trailers and public transport. More than 2,500 magazines are sold by subscription every two months, giving an estimated readership of 4,000 worldwide. Subscribers include public utilities, train operating companies and bike manufacturers and distributors.
---
Tramways & Urban Transit
Now in its 82nd year, Tramways & Urban Transit is the world's leading monthly publication dedicated solely to the development and expansion of rail-borne urban transit.
Distributed worldwide, the publication covers the great renaissance in tramway, metro and light rail projects and is unique as a publication founded on the needs of promoters, transport operators, planners, consultants, manufacturers and campaigners for better public transport in our congested towns and cities.
---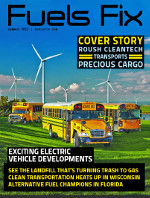 Fuels Fix
US-based free e-zine. The Fuels Fix is a rootin' tootin' collaborative effort of all the U.S. DOE Clean Cities Program coalitions in the United States working together to spread the word about actions that are taking place to reduce oil dependence, improve air quality and get advanced fuels, vehicle and vehicle technologies in use.
The Ezine is a quarterly collection of stories from all over the U.S. about alternative fuels, hybrids, conservation and efficiency initiatives, emissions reducing technologies, and the like from the coordinators themselves.