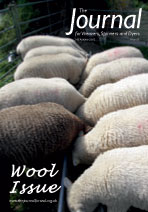 Journal for Weavers, Spinners & Dyers
The Journal exists to further the aims of the Association and to provide:
an interesting and informative magazine for those involved in the crafts
an opportunity for the exchange of ideas
instructive articles to encourage wider experimentation
an effective advertising space for suppliers
The Journal is published on behalf of the Association of Guilds of Spinners Weavers and Dyers. A small team of enthusiastic volunteers publishes the Journal quarterly in spring, summer, autumn and winter.
It covers a wide range of textile subjects, including articles on historic textile techniques and cutting edge modern design. We published an extra issue in summer 2009 to celebrate the life and work of Peter Collingwood. Subscribers received the Peter Collingwood Issue as part of their subscription. It is now available as a back copy.