Permaculture
This leading environmental magazine gets to the heart of permaculture and sustainable living internationally. It features practical thought provoking articles on organic gardening, sustainable agriculture, agroforestry, climate change, peak oil, eco-villages, alternative technology, eco-architecture, personal and community development and much more. Packed with informative articles, readers solutions, DIY designs, news, reviews, book, tool and product reviews, letters, classifieds and details of a wide range of related courses.
---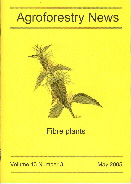 Agroforestry News
Agroforestry News is a quarterly newsletter, focusing on temperate tree and shrubs crops, and includes:
reports on agroforestry research projects
regular articles on fruit and nut growing
in-depth profiles of unusual tree and shrub crops
native tree profiles
propagation techniques
forest gardening
useful ground covers
book reviews
Essential reading or all who are interested in temperate tree crops and agroforestry.