Resource
Resource is the in-house magazine of Resource Media, and the foremost waste / recycling magazine in the UK – championing forward thinking in the way we manage and recycle our waste.
The magazine contains articles on the recycling industry, and also domestic waste and recycling issues, including all recyclable materials, organic waste, both garden and kitchen, batteries, and more difficult-to-recycle items.
As well as looking into composting, Resource considers the role organic waste can play in meeting renewable energy and fuel needs, and how new treatment approaches could contribute to carbon sequestration.
---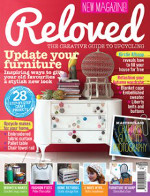 Reloved
Reloved is the exciting new magazine at the heart of thrifting, shabby chic and upcycling. With an emphasis on breathing new life into old, forgotten objects, it brings a hands-on approach to this thriving pastime. Featuring at least 25 substantial projects each issue and priced at only £4.99, Reloved is the practical magazine for everyone with a desire to create and adapt beautiful things.
---
Recycling & Waste World
Recycling & Waste World is the only magazine exclusively dedicated to the recycling and waste management industries. Launched in 1987, this publication provides incisive news, authoritative editorial and commentary spanning all areas of recycling and waste management from materials and waste reprocessing through to emerging technologies and practices. Recycling & Waste World is universally acknowledged as the authority on recycling and waste and reflects these constantly developing industries in a topical and informative way.