Journal for Weavers, Spinners & Dyers
The Journal exists to further the aims of the Association and to provide:
an interesting and informative magazine for those involved in the crafts
an opportunity for the exchange of ideas
instructive articles to encourage wider experimentation
an effective advertising space for suppliers
The Journal is published on behalf of the Association of Guilds of Spinners Weavers and Dyers. A small team of enthusiastic volunteers publishes the Journal quarterly in spring, summer, autumn and winter. It covers a wide range of textile subjects, including articles on historic textile techniques and cutting edge modern design. We published an extra issue in summer 2009 to celebrate the life and work of Peter Collingwood. Subscribers received the Peter Collingwood Issue as part of their subscription. It is now available as a back copy.
---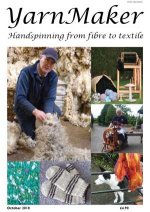 Yarn Maker
YarnMaker is a British magazine for handspinners, edited and published by Dorothy Lumb. Dorothy writes: I am a handspinner, dyer and weaver, and also enjoy knitting and crochet. I keep in touch with other spinners through local guilds and spinning groups, as well as Ravelry, and membership of the Online Guild of Weavers, Spinners and Dyers. I had been a spinner for 5 years when someone mentioned the need for a British based magazine and I responded by starting YarnMaker. The first edition was published in August 2010. The British magazine for everyone interested in handspinning – Bringing you articles on fibres, sheep breeds, spinning techinique, dyeing yarn and fibre, using handspun yarns, competitions. Find information about spinning wheels, new products, events, meetings of local spinning guilds and groups, businesses supplying materials and services.
---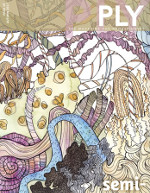 Ply
PLY Magazine's purpose is to serve as a kind of encyclopedia of spinning knowledge. A stamp of the current moment in spinning time, as well as a record of the evolving line of knowledge stretching out behind us. Each issue is printed on quality paper with a printable spine so that, well into the future, you'll be able to easily access the information within. Issues are themed so we can dig deeply into a topic, get to its core, explore different viewpoints and issues, and learn all we can about it. In the interest of diversity and a never-ending quest for knowledge, we go out of our way to find new and interesting things, old and important things, and delve as well into things we might take for granted. How it works, why it works, where it comes from, who's doing it: these are the things we're interested in — the things we ask our writers to explore.
---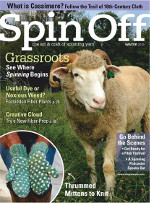 Spin Off
Today's handspinner wants expert information on techniques, stories and inspiration, so that's why Spin-Off magazine is a must-read! Whether you use a spindle or spinning wheel, you'll find perspectives on local and global spinning traditions; ideas for how to spin yarn like never before; and inspiring spinning projects for knitting, crocheting, weaving and more! It's all here… from spinning tips for beginners to in-depth articles that satisfy the longtime spinner.
---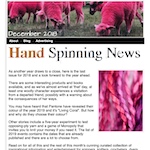 Hand Spinning News
Free online magazine. Archives available. I'm Shiela Dixon, an enthusiastic knitter, spinner, musician and walker. And curator of Hand Spinning News. The first issue, sometime in 2009, was just called 'the newsletter'. I've made an issue almost every month, and since that first issue it's grown in size, gained a new name, its own web domain and regular features. It's never been solely about me or my shops (which are all but closed now). Instead it's a curated selection of spinning goodies from around the web. I sometimes use my own blog posts or reviews but try to only use these if I would select them had they been written by anyone else.