Urban Farm
Urban Farm is dedicated to providing you with detailed how-tos for reducing your carbon footprint and living sustainably. Whether you raise chickens in your suburban backyard or harvest veggies for dinner from your rooftop garden, Urban Farm will be there every step of the way with new ideas and solutions. Plus, you'll get recipes and great feature articles suited to your green lifestyle.
---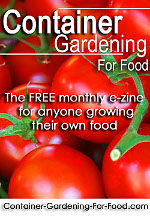 Container Gardening for Food
Container Gardening For Food is a fine gardening magazine and is Completely FREE news, tips and ideas magazine dedicated to the art of growing your own food.
Every two months, subscribers will be e-mailed this free online newsletter which will contain valuable and useful content including tips, advice, stories, and anything else that will help you to make your garden a better place. It will also tell you about any new Podcasts or videos that have been created for you.
You can see previous issues of the e-zine here.