The Organic Way
The Organic way is the membership magazine for Garden Organic. Garden Organic is the UK's leading organic growing charity, has been at the forefront of the organic horticulture movement for 50 years and is dedicated to researching and promoting organic gardening, farming and food.
Garden Organic is a dynamic, influential and committed organisation. They passionately believe in an organic approach to a sustainable future for people and our planet. Garden Organic has over 40,000 supporters and reaches more than 3,000,000 beneficiaries across the world through its expert advice and information.
---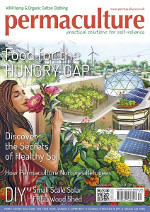 Permaculture
Permaculture Magazine is a bestselling international green/environmental magazine and a fantastic resource. It features thought provoking articles on:
• organic gardening
• food & drink
• renewable technology and green building
• education, health and economics
• transition towns and ecovillages
• personal and community development
• sustainable agriculture and agroforestry
It is also full of reviews of the latest books, dvds, tools and products, details of courses and access to contacts who will help you achieve your own goals and dreams.Established in 1992, the print edition has over 100,000 readers per issue, and www.permaculture.co.uk receives over 4 million page views a year.
---
Kitchen Garden
Kitchen Garden Magazine – UK's No.1 for growing your own fruit and veg. Now becoming increasingly popular is growing fruit and vegetables in your own garden.
Typical contents:
jobs to do for a particular month
seasonal tips on growing under cover
readers' fruit and veg gardens
how-to-grow guides
turning and old farm trough into a salad factory
fruit and veg questions answered
website reviews
allotment life
organics
seasonal recipes
what to buy
many other features
---
Grow Your Own
The UK's best-selling kitchen garden publication, Grow Your Own magazine is here to help you produce the very best fruit and vegetables from your allotment or garden. Each issue is packed with tips and tricks to grow award-winning produce whatever your plot size.
A subscription to Grow Your Own magazine is the best way to keep up to date with the latest news from allotments around the country. Whether you're a seed-sowing newbie or a green-fingered veteran who has taken charge of many plots, this magazine has something for every keen gardener.
---