Country Walking
Country Walking Magazine brings you brilliant walks and everything you need to enjoy them.
Spanning the length and breadth of Britain, we'll show you the biggest views, the hidden gems, the sea cliffs and the mountain summits. All our features come complete with superb writing, inspiring photography and step-by-step instructions so you can follow every footpath yourself. And for each walk, we'll give you brilliant options for accommodation, food and drink, and local visitor attractions, so you can plan every walking adventure to perfection.
---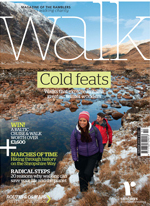 Walk
Walk is the magazine of the Ramblers Association – the largest walkers' rights organisation in Great Britain. It aims to represent the interests of walkers (or ramblers). It is a charity with around 123,000 members. The Ramblers as a charitable organisation believes in the power of walking. A belief of the organisation is a recognition of the positive impact that walking can have on people's lives. Although it is a membership-based organisation, the Ramblers believes that its work benefits society as a whole, and a core belief is that the countryside should be for rambling. Since its inception, the Ramblers have campaigned for full rights of responsible access to all of Britain's green spaces, culminating in the Countryside and Rights of Way Act 2000 (the CRoW Act). Access in Scotland is even more liberal: the Land Reform (Scotland) Act 2003 made Scotland among the most walking-friendly countries in Europe, along with the Nordic countries, with walkers having the right to access virtually all land.
---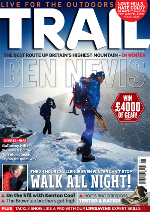 Trail
If you love to sling on a backpack and head for the hills, Trail is the magazine for you.
As the UK's best-selling hillwalking title, we specialize in the most beautiful, spectacular and challenging regions of Britain and Europe – and inform you of the tools you need to explore them. So if you fancy a new pair of boots, have always wanted to know how to tell the time by the sun or are keen to try a spot of wild camping, you'll love Trail…
---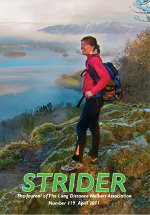 Strider
Strider is the journal of the Long Distance Walkers Association, published at the beginning of April, August and December and is sent to all members. Each issue has over 100 pages providing a wide range of information, advice and entertainment for the long distance walker. Regular features include:
Walks programmes of our local groups
Details of forthcoming challenge events across Britain
News of Long Distance Paths – new routes and information
Past Events – reports on challenge walks
Dear Strider – a selection of members' letters
Countryside Page – a discussion of issues that affect walkers
Crossword and other puzzles
Hillwalkers' Register – reports and listings of peakbagging achievements
Practical hints on long distance walking
---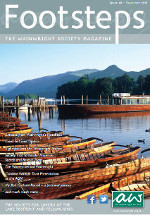 Footsteps
Footsteps is the Wainwright Society magazine. A 32 page, A5 professionally printed magazine delivered to you 4 times a year. Keep up with Society news, walks, read articles by members, get the latest discounts we have arranged and much more.
Alfred Wainwright (1907-1991) will always be known for his famous Pictorial Guides to the Lakeland Fells which he compiled between 1952 and 1966. These handwritten and hand-drawn works of art have given inspiration to all true fellwalkers for the past forty years.
---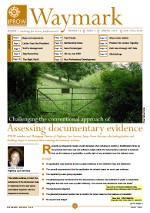 Waymark
Waymark is the journal of the Institute of Public Rights of Way (IPROW) and contains news of ongoing work such as special projects, consultations and representation; articles on a wide range of topics and news of members. IPROW is the professional body which represents individuals involved in the management of public rights of way and other access in England, Wales, Scotland and Northern Ireland, principally as local government officers. Its members cover the whole of the field of access work, from countryside rangers putting in stiles to enforcement officers, path inspectors, strategic access developers and solicitors, as well as those maintaining the definitive map and making public path orders.
Waymark is produced quarterly in digital form, currently (pdf).