Posted May 13th, 2018
Nettles glorious nettles… foraging tips and delicious recipes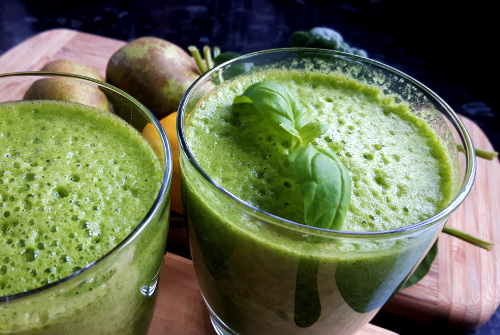 Wild food author and foraging teacher James Wood explores one of the most common plants – nettles – and shares his wonderful recipes and tips for foraging.
In this post we're going to look at a plant that almost everyone will already know, it's the one plant I find that practically everyone can happily identify and maybe not for the best of reasons. Of course we're talking about stinging nettles, let's not lie – we've all been stung by these at some point and more than likely called it one or two not very nice words. I know I do on a weekly occurrence, often when I realise there's a hole in the gloves I've put on to pick them, and don't believe people when they say you can pick these bare handed without getting at least a little sting.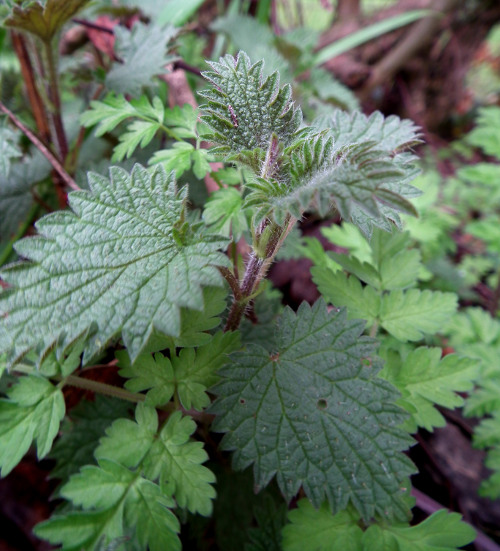 Anyway from a food and materials point of view, nettles are absolutely outstanding in their variety and range of uses. They're jam packed with minerals and vitamins, are everywhere and absolutely free, I honestly think if this ingredient was sold in the supermarkets it would be framed as one of the best super foods.
So let me try to persuade you in to going out and picking stinging nettles.
Firstly, when eating nettle leaves make sure to pick only the top 6 to 8 leaves from the top, just pull all 8 off at once. They are the most vibrant a fresh and anything below these may be a little to fibrous (they won't harm you but you will be chewing for a long time if you take the leaves below these 8)
Second, there's a common myth going around that nettles are dangerous to eat once they've gone to seed, it is true that the leaves start to store calcium after the plant has gone to seed, but I have yet to find ANY evidence to prove that this is anyway dangerous to your health to continue eating.
Lastly, If you're picking nettle tops, the plant will continue to grow fresh young shoots, meaning you can have fresh nettle tops all the way through to October.
Botanical Name
Utrica dioica
Known Hazards
Stinging nettles are well known for the burning sensation they give if handled needlessly. On the stem of a nettle stalk are thousands of small needles, typically pointing upwards, with small sacks at the base of the needle. These sacks are filled with various chemicals some of which are acetylcholine, histamine, 5-HT (serotonin), moroidin, leukotrienes, and possibly formic acid.
Could be confused with…
Dead nettles (Lamium Purpureum/Album) look similar and can cause quite a shock when picked with no stings, they don't grow as large as stinging nettles, they don't sting and their flowers grow up the stem and look like small bells. The whole of this plant is also edible and if you suck on the base of the flower you can get a nice hit of sweet juice (why the bees seem to like it so much).
Physical Characteristics
The stinging nettle is a herbaceous perennial, growing back yearly. Typically groups of male and female plants grow separately. It has widely spread rhizomes that are bright yellow along with the roots.
The stem grows from 1-2m tall through the summer and dies down to ground through the winter, it's hollow, ribbed and houses many fine hairs and stinging needles. Leaves are pale green, turning darker throughout the year – they have a wide base and a pointed tip with a heavily serrated margin, growing from 3-15cm and are placed oppositely up the stem. It bears very small flowers in densely packed axillary inflorescences.
Herbal Use
Talking to a range of herbalists, it seems that nettles are the go-to herb for most ailments and they are the lifeblood of current herbalism. Nettle root has been used to help treat prostate cancer and generally helps you keep a healthy prostate. Teas, infusions, creams and tincture are mainly used to help reduce allergies, stimulate digestion, cleanse blood, aid lactation, reduce inflammation, promote menstruation, relieve pain, kill germs, stop hair loss, lower body temperature, increase urination, stop bleeding, dilate blood vessels, lower blood pressure, heal wounds.
The use of nettles is proven to aid arthritis, although clinical trials isolated a number of chemicals present in the nettle for tests, traditionally you would hit the desired area with the stinging nettle for up to 20 minutes, causing the heat sensation for a number of hours.
Here's an overview of how we use it through the year:
Root: herbal use.
Stem: edible when young, becomes fibrous with age so use as cordage or fibre source when old.
Leaves young: lacto ferment, spinach sub, crisps, pickled, soups, pesto, sauce or raw if you're feeling adventurous.
Leaves old: powdered, cordial, syrup, stock, tea.
Fruit/seeds: roasted or fried.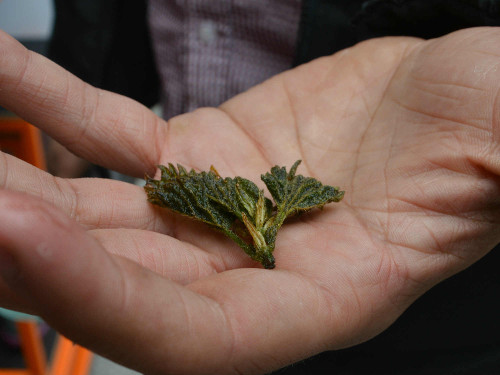 Nettle Leaf Crisps
These crisps are a complete winner, full crowd pleaser and definite to convert people to the wonders of wild food, give it a go with the fresh young nettle tops.
To make a large plate of nettle crisps
Ingredients:
Half a carrier bag of nettle tops (200g)

100ml vegetable oil

Hogweed seed seasoning (or salt and pepper)
Method:
Place 20ml of oil in a pan and heat, leave one leaf in the pan from the beginning to see when it begins to cook and bubble

At this point add more nettle leaves

Each leaf needs room to cook (if you just chuck them all in the pan they will wilt down and not crisp up)

After 1-2 minutes, or when they start turning slightly golden, turn them over and cook the other side

Remove and place on some kitchen towel

Add a little more oil and repeat the cooking with more fresh nettle tops until they're all done

Season with what you have to hand and enjoy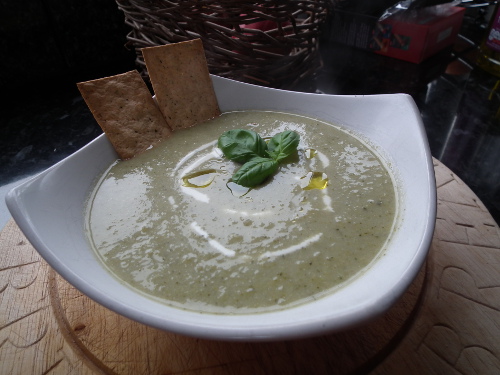 Nettle Soup
I've had a lot of bad nettle soups but having finally created this recipe I have no need to try any others as it's really perfect.
Serves 4
Ingredients:
Half a bag of nettles, washed (about 200g)

2 large potatoes, peeled and chopped

2 onions, skinned and diced

A handful of wild garlic stalks (50g) finely chopped, (or two garlic cloves)

4 three cornered leek stems, chopped (or 2 Leeks)

10 Ground Elder Shoots, chopped (or Two Celery Sticks)
. One and a half litres vegetable Stock
. A little single cream (50ml)
Method:
Boil the potatoes and celery for 10 mins in the vegetable stock.

Fry off the onions, leeks, wild garlic stalks and the nettles for 2 mins.

Mix the two together and put in a blender, blend until smooth

Add a swirl of cream in your serving bowl before eating, along with salt and pepper

Why not add some fried nettle crisps to go on your soup?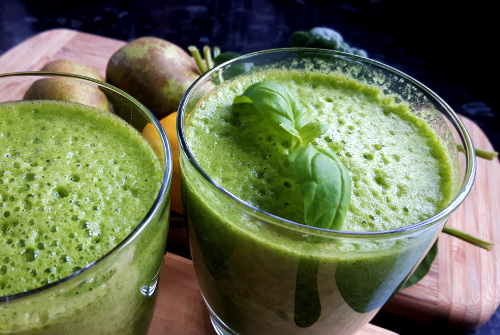 Nettle Leaf and Pear Smoothie
Why keep it only to eating? Let's drink nettles! Apart from making a lovely nettle leaf cordial you can also use the leaves in loads of smoothies, simply search out any recipe that calls for spinach and swap it out for fresh young nettle leaves. This is one of my favourites for the morning.
Ingredients: per person (300ml)
1 pear, chopped with the middle removed

5 nettle tops, washed (or spinach)

200ml hazelnut milk (or regular milk)

2 ice cubes
Method:
Chuck the whole lot in to a blender or smoothie machine and blend until nice and smooth.

Enjoy chilled

It's also works well as a winter smoothie without the ice and with half a thumb of ginger instead.
As you can see nettles are amazing, and we've only just touched the surface here, they can be used for making paper, the roots can be used for making an orange dye and the leaves can be used for making a cheese like curd!
---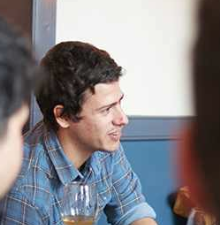 About the author
James Wood is a renowned experimental wild food forager running wild food cookery and foraging courses throughout the UK and is the author of 'The Foragers' Cookbook' – a countryside guide. He runs Totally Wild UK, and offers foraging courses and walks.
---
The views expressed in our blog are those of the author and not necessarily lowimpact.org's
---
4 Comments
1

mark holdforth May 13th, 2018

i have just tried the nettle and pear smoothie with cows milk ,and its very nice you need to try it

thanks for the tip mark holdforth

2

Andrew Rollinson May 14th, 2018

A few comments on this blog:

1. What I have always found interesting is how one always finds dock growing next to stinging nettles.

2. I have made nettle soup for years. I use only an onion and potatoes, in addition to the nettles. I don't use milk as I am a vegetarian. When adding more and more ingredients it becomes like that children's story: "stone soup", and you dilute the flavour of the nettle.

3. The tough yellow roots were formerly used as string/cord.

4. There is truth in the phrase "grasp the nettle". I have been stung many times and if you gently brush against the plant you seem to get the worst kind of sting, but if you just boldly grab the plant often you get no sting.

5. My wife makes a nettle hair conditioner.

Andrew

3

Andrew Rollinson May 14th, 2018

Stinging nettle makes a nice country wine too, at a time of year when the weather is warm enough for fermentation but when there is little else around from which to provide the flavour. The young plants are available a few weeks to a month before elderflower.

4

Steve Cunio May 31st, 2018

This article is perfectly timed. I have an absolutely beautiful nettle specimen growing in the garden which is absolutely gorgeous to look at… it's dying for me to take its top leaves and taste its wonders! I'm looking forward to using its leaves and the leaves from the others around it and trying out the recipes above! ? Really glad to be finally getting into these newsletter… this is the start of my foraging life!
Leave a comment