Biomass
US magazine, of interest to those who want to understand what's happening in the large-scale biomass industry rather than small-scale producers.
Biomass Magazine is a monthly trade publication tailored to serve companies and organizations engaged in producing or utilizing biomass power and heat, advanced biofuels, biogas, wood pellets and biobased chemicals.  In addition to policy, regulation, project finance, technology and plant management, the publication maintains a core editorial focus on biomass logistics: generating, cultivating, collecting, transporting, processing, marketing, procuring and utilizing sustainable biomass.
---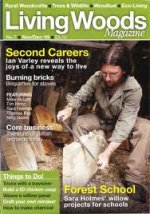 Living Woods
Living Woods magazine is aimed at anyone interested in trees, woodlands and timber. Living Woods covers everything from green woodworking, wood fuel and the use of timber in building and furniture, as well as focusing on woodland wildlife, forestry projects and campaigns to promote British wood and woodlands.
It has regular articles on buying a woodland and planting new woods.
Perhaps you dream of owning your own woodland, want to enjoy the therapy of quiet, green woodworking, or want to use wood as fuel to save money and fight global warming. This magazine is for you. Bi-monthly.