Forge
Forge is the official trade magazine of the British Farriers and Blacksmiths Association (BFBA), reaching 3,400 members every issue. Forge is a high-quality magazine, published alternate monthly on every even month. Forge is directly mailed to all registered farriers, apprentices and blacksmiths in the United Kingdom, and is available free online. Forge Magazine is an important publication for the Association and the wider industry to share news, views and developments in technology. It also serves as a showcase for services and products available across the UK.
---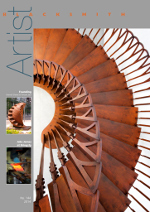 Artist Blacksmith
The magazine of the British Artist Blacksmiths Association. BABA is very proud of its magazine, a key members-only benefit that has developed over 36 years from a simple black and white publication into a full-colour, 52-page, glossy magazine. Featuring articles, event information, photo galleries and debates, the magazine is printed using vegetable-based inks and no alcohol, as part of the editorial 'green' policy. Each issue features a contribution from a guest editor, and this keeps the content fresh and the viewpoints varied. Part of each issue is also themed – subjects such as education, the philanthropic aspects of international blacksmithing, marketing, finishing, iron casting, etc. have been featured in recent issues.
---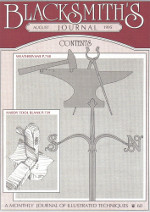 Blacksmith's Journal
US mag. The Blacksmith's Journal, created by Jerry Hoffmann, was originally published from August 1990 to April 2010 beginning with issue #0 through issue #231. Subscriptions are no longer available, however back issues in digital and hard copy format are still available on their website.
Jerry Hoffmann's body of work still ranks as one of the best how-to publications on the craft of blacksmithing and ornamental ironwork, with thousands of designs for ironwork components and product projects.