Society Matters
Designed to get behind the headlines of the BSA's policies, our quarterly magazine Society Matters covers what is happening in the world of building societies and the wider financial services sector.
Print or digital versions
---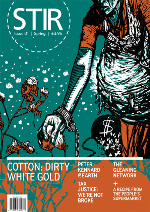 Stir
STIR started as an online magazine and has now launched as a quarterly print magazine that features articles and interviews on the international co-operative movement, the emergence of the commons and collaborative networks, and other community-orientated alternatives in technology, agriculture, food, sports, energy, education and other important aspects of our lives. We feature lots of original art from international illustrators and publish infographics on the themes we look at in each issue.
We are a reader-supported magazine and we are looking for subscribers to help us grow our magazine and build a strong financial base.
---