Craft Butcher
Craft Butcher is the magazine of the National Federation of Meat & Food Traders (NFMFT).
The NFMFT is a national organisation, which has given representation and business support to thousands of independent meat & food traders for more than 100 years. It is the only nationally recognised organisation to represent the independent meat trader in England and Wales at European, government and industry level.
---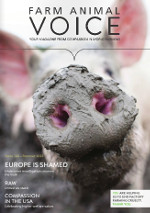 Farm Animal Voice
FARM ANIMAL VOICE is the flagship magazine for supporters of Compassion in World Farming – who believe that animals should not be reared in factory farms. Published three times a year, it contains updates on the work of the charity and the progress being made towards a more humane world.
If you would like to receive a copy, please do consider joining Compassion in World Farming with a monthly donation by direct debit. A regular gift from you can help stop the biggest cause of animal cruelty on the planet.