Good Cheese
Making it, selling it, enjoying it. Good Cheese is the magazine for everyone with a passion for cheese. Published annually to coincide with the World Cheese Awards, it it is read by all specialist cheese retailers, farm shops and buyers and subsequently is on sale to the public through specialist retailers. Articles are informed and entertaining, offering the trade and cheese loving consumers an insight to artisan and mainstream cheeses to feature in store and on cheese boards at home. There are also regular features covering ancillary 'cheesie things' like biscuits, knives, chutneys and other accoutrements.
---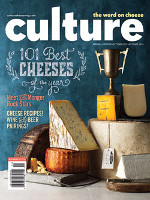 Culture
US magazine – Culture: the word on cheese is America's first and best mag devoted to the love of cheese. Profiles, recipes, wine, beer, and a community of readers always willing to help and chat.
With every issue you will discover the flavors and textures of great cheeses. You will learn about new cheeses and cheesemakers. You will read about the stories behind the cheeses you love. You will finally have a place to turn to satisfy your passion for all things cheese. Stories about cheeses, cheesemakers, travel to gorgeous cheese regions, and practical tips on buying, presenting, and cooking with cheese.
---