Credit Union World
Stay informed about the international credit union movement with World Council of Credit Unions' magazine. Credit Union World is the online publication from World Council of Credit Unions, the global trade association and development agency for credit unions. In markets increasingly driven by international events, we build a global community of credit unions and financial cooperatives. Communities network to address the critical issues and challenges they face. We bring together those who have faced similar issues and found solutions to share with their colleagues. International partnership and training programs enable credit unions to connect with, study and learn from credit unions systems in our global community. We build this community by engaging with each other in-person and virtually.
---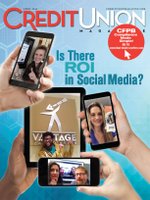 Credit Union
US Magazine; comprehensive coverage and narratives from Credit Union Magazine include:
In-depth features;
Insightful economic perspectives from CUNA's Chief Economist Bill Hampel, Vice President Mike Schenk, and Senior Economist Steve Rick;
Comprehensive compliance coverage;
Operational insights from leaders of the CUNA Councils;
Our monthly humor column, Branching Out, from O'Bee Credit Union CEO James Collins' humor column; and
Much more.