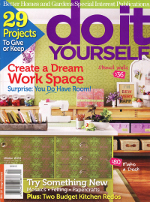 Do It Yourself
Packed with step-by-step projects, Do It Yourself is your go-to guide to personalizing your home. Find inspiration and instructions for simple room renovations, home decor projects, budget-savvy style, flea market makeovers, outdoor living ideas, and more.
---
Family Handyman
The Family Handyman is the DIYers best friend, offering a variety of print and digital resources for do-it-yourself homeowners. Our forte is accurate and complete how-to instructions for improving homes, yards and vehicles. We publish The Family Handyman magazine, the oldest and largest publication for DIYers, and a variety of newsstand publications
---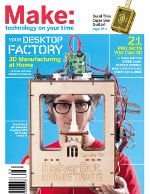 Make
American bimonthly magazine published by Maker Media, which focuses less on home improvement DIY and more on do it yourself (DIY) and/or DIWO (Do It With Others) projects involving computers, electronics, robotics, metalworking,woodworking and other disciplines. The magazine is marketed to people who enjoy making things and features complex projects which can often be completed with cheap materials, including household items. Make magazine is considered "a central organ of the maker movement.
---

Home & DIY
Monthly online magazine of Diyfixit. Diyfixit began publishing online in 1999 and goes from strength to strength with a growing audience. The information in the How to section is drawn from many years of experience and the team continues to add articles and update existing ones on a regular basis.
Our Magazine is produced by our talented writers who each have their own specialist knowledge and contacts, enabling a wide variety of topics to be covered each month. We welcome feedback on the site and you can use the form on the Contact Us page to send us your comments, suggestions or views.