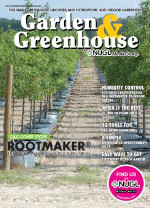 Garden & Greenhouse
Garden & Greenhouse Magazine is a Magazine written for Small Greenhouse Growers and Hydroponic & Indoor Gardeners. 
Free subscription / read current issue free online
---
The Greenhouse Grower
The Commercial Greenhouse Grower has been reaching growers of salad and ornamental crops in the protected cropping sector for over 25 years. Since 1994 the Commercial Greenhouse Grower has been offering readers specific coverage of the protected cropping sector. Reaching ornamental and salad crop growers, this horticultural magazine covers a range of topics relevant to the marketplace with reports and information that are beneficial and informative for all protected crop growers.