Hydromag
From the creators of Urban Garden Magazine, Hydromag is the UK's longest running hydroponics publication, written by growers, read by growers. Hydromag's website is a resource of information to help you grow your own produce using modern growing techniques such as hydroponics and aeroponics. We feature hydroponic products on our website, however we don't sell hydroponic products.
---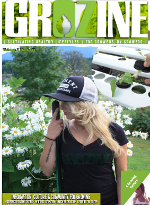 Grozine
Grozine Hydroponics Articles Contributors are foundational in delivering useful and in-depth information about growing crops with modern techniques in grow lighting, hydroponics fertilizer & supplements, environmental automation that engage, inform and educate gardeners. These experts in their chosen respective fields are at the at the top of their class in written thought provoking grow tips and cultivation technology talks that modern indoor and greenhouse gardeners can take to the bank.
---
Maximum Yield
Maximum Yield Indoor Gardening Magazine covers topics such as hydroponics, aeroponics, aquaponics and organics as well as greenhouse, small-space, container, urban and vertical growing. Each issue is focused on showing you how to reach your Maximum Yield with informative articles, the latest products and technologies, how-tos and tips and tricks from indoor growing experts.