Media North
MediaNorth is the quarterly publication of the Campaign for Press & Broadcasting Freedom (North) which covers the North West, Yorks & Humber and North East of England. We also have supporters in Scotland. CPBF (North) highlights threats to regional media such as the assaults on jobs and conditions in local and regional newspapers, and campaigns for strong regional media. We also strongly support alternative media, both print and online. Nationally we want diverse, democratically accountable media.
---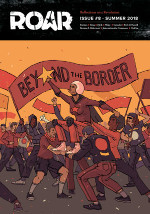 Roar
Independent coverage and critical analysis of world politics and current affairs — from a radical social movement perspective. The world-system is in crisis. Global capitalism and liberal democracy are crumbling all around us. Now more than ever, we need subversive commentary, engaged research and critical analysis to make sense of our tumultuous times and help stave off the coming global catastrophe. As an activist-run journal of the radical imagination, we consider it our mission to contribute to that collective effort.
---
Co-operative News
Co-operative News, established in 1871, is the oldest co-operative newspaper in the world – and also, arguably, the oldest democratically controlled paper. It is published by an independent registered co-operative society, Co-operative Press Ltd. Membership of the Press is open to individual readers as well as to other co-operatives, corporate bodies and unincorporated organisations.
---
The New Economics Zine
The way the economy works isn't inevitable. It's run according to a set of rules that determine what its outcomes are. These rules are not naturally occurring things – we can change them. By changing the rules that govern the economy, we can reprogramme it to give it a new purpose. We can build a new economy that doesn't just follow the markets – one which is purpose-driven and creates human and environmental flourishing. This is the thinking behind this new zine from the New Economics Foundation.
---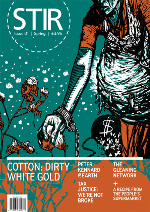 Stir
STIR started as an online magazine and has now launched as a quarterly print magazine that features articles and interviews on the international co-operative movement, the emergence of the commons and collaborative networks, and other community-orientated alternatives in technology, agriculture, food, sports, energy, education and other important aspects of our lives. We feature lots of original art from international illustrators and publish infographics on the themes we look at in each issue.
We are a reader-supported magazine and we are looking for subscribers to help us grow our magazine and build a strong financial base.
---
Corporate Watch
Corporate Watch is a small independent not-for-profit research and publishing group which undertakes research on the social and environmental impact of large corporations, particularly multinationals. We aim to expose the mechanisms by which corporations function and the detrimental effects they have on society and the environment as an inevitable result of their current legal structure.
Corporate Watch strives for a society that is ecologically sustainable, democratic, equitable and non-exploitative. Progress towards such a society may, in part, be achieved through dismantling the vast economic and political power of corporations and developing ecologically and socially just alternatives to the present economic system.
---
Adbusters
Adbusters is a not-for-profit organisation and the magazine is entirely ad-free. Based in Vancouver, British Columbia, Canada, Adbusters is a not-for-profit, reader-supported, 60,000-circulation magazine concerned about the erosion of our physical and cultural environments by commercial forces. Our work has been featured in hundreds of alternative and mainstream newspapers, magazines, and television and radio shows around the world. Adbusters offers incisive philosophical articles as well as activist commentary from around the world addressing issues ranging from genetically modified foods to media concentration. In addition, our annual social marketing campaigns like Buy Nothing Day and Digital Detox Week have made us an important activist networking group.
---
Communities
Communities magazine is the magazine of the US Fellowship for Intentional Community, the primary resource for information, stories, and ideas about intentional communities—including urban co-ops, cohousing groups, ecovillages, and rural communes.
Communities also focuses on creating and enhancing community in the workplace, in nonprofit or activist organizations, and in neighborhoods. We explore the joys and challenges of cooperation in its many dimensions, and pass the wisdom on to you and your community.
---
New Internationalist
New Internationalist is a leading independent media organization dedicated to socially conscious journalism and publishing. We are proud to be a multi-stakeholder co-operative co-owned by our workers and over 3,600 investors.
Our magazine has been producing in-depth journalism on human rights, politics, and social and environmental justice since 1973.
---
Cooperative Business Journal
Founded in 1916, the National Cooperative Business Association, CLUSA International (NCBA CLUSA) began as the Cooperative League of America until it was renamed the Cooperative League of the USA (CLUSA) in 1922, and then rebranded as NCBA in 1985. Today, now known as NCBA CLUSA, we are the oldest not-for-profit cooperative development and trade association in the United States, fostering cooperative and international economic and social development in the United States and abroad.
---
Resurgence & Ecologist
When Resurgence started, over forty-five years ago, it tackled issues that were only just filtering through to the mainstream debate. Articles were published on the endangered environment, renewable energy and ecological economics. E.F. Schumacher wrote regularly about the perils of chemicals in our food, the simplicity of Buddhist economics and the strength of 'Small is Beautiful'.Resurgence continues to publish articles that are on the cutting edge of current thinking, promoting creativity, ecology, spirituality and frugality. While the corporate world advocates 'free trade', Resurgence questions trade without responsibility and money without morality. While our governments define the 'national interest' and their politicians pursue power at all costs, Resurgence argues for politics with principles. While technology invades our lives in the name of speed and efficiency, Resurgence advocates science with a soul.
---
Peace News
Published since 1936, Peace News is the UK's only grassroots newspaper covering the full spectrum of peace and justice issues. We have a staff of six part-time workers and currently publish 6 bi-monthly issues a year. Peace News Ltd is a not-for-profit limited company.
"Peace News has compiled an exemplary record… its tasks have never been more critically important than they are today."Noam Chomsky
---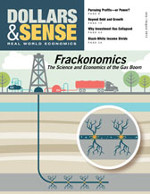 Dollars & Sense
US magazine. The first Dollars & Sense, a 16-page bulletin that sold for 50 cents, came out in November 1974. Sponsored by the Union for Radical Political Economics, and produced by a collective of URPE members, Dollars & Sense sought to challenge the mainstream media's account of how the US economy works by publishing popularly written, critical articles in an accessible format.
Dollars & Sense publishes economic news and analysis, reports on economic justice activism, primers on economic topics, and critiques of the mainstream media's coverage of the economy. Our readers include professors, students, and activists who value our smart and accessible economic coverage.
---