Knitting magazine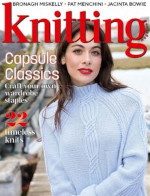 Fusing fashion with the stitches and styles knitters love, each issue offers a wealth of designs and ideas including dozens of new and contemporary patterns for women, men, children and the home. Plus there are plenty of popular tips on how your knits can work with the latest fashion and home trends. Featuring the best hand-knit designers from around the world and bringing new and emerging designers to the news stand for the first time, it also features in-depth reports on crucial issues, the latest news and must-buys, plus plenty of techniques and how-tos. Essential reading for the discerning knitter.
---
Simply Knitting
Simply Knitting is the most popular and best-loved knitting magazine in the UK. Each issue is packed full of creative ideas and is guaranteed to have something to delight every reader whatever their knitting ability. Inside you'll find a wide range of fantastic patterns including stylish garments for all the family, creative knits for the home, fashionable accessories to wear and an exclusive toy pattern from our star designer – Alan Dart. In addition to the fabulous patterns, each value-packed issue also includes easy-to-follow technical features, enjoyable brainteaser puzzles, exciting news from the knitting world plus a fantastic free gift to enhance the knitting experience. Simply Knitting is the must-buy knitting magazine for anyone who loves to knit.
---
Simply Crochet
Simply Crochet is a dedicated crochet magazine from the makers of Simply Knitting, The Knitter, Crochet Today! and Mollie Makes. Featuring over 20 crochet patterns every month and technical advice, clear instructions and crochet inspiration, Simply Crochet will get you hooked on handmade!
Beautiful designs for the home and crochet patterns; Fashionable accessories to wear and gift ideas for all occasions; Easy-follow instructions to ensure the best possible results every time; Lots of exciting projects for creative crafters; Plus, you will receive a free gift with every issue.
---
The Knitter
The Knitter is the premier magazine for confident knitters who are looking for beautiful, original patterns from the world's best designers. Each issue of this collectable magazine has more than 12 gorgeous, inspiring patterns which are aimed at expert knitters and those looking to stretch and improve their skills. The designs are supplemented by informative, in-depth articles from experts around the globe and advice on new yarns and products that are available to enhance their knitting hobby. Every month, The Knitter also delivers expert, in-depth Masterclass features which are aimed at learning new techniques and help readers to become more confident, proficient knitters. With its focus on high-quality designs and best-in-class photography, The Knitter is a hugely respected magazine within the knitting community and a must-read for all confident and creative knitters.
---
Knit Today
Knit Today is the ultimate collection of beautiful ideas for knitting and crochet projects from top designers from around the world. With beautiful projects, best buys and prizes in every issue you'll be spoilt for choice and inspiration to make gorgeous gifts for all your family and friends.
Typical contents of Knit Today includes:
Inspiring patterns to enjoy for knitters of all abilities
Out and about – find knitting events and classes near where you live and how to join knit clubs
Knit library – new stitches every month to learn
Competitions and prizes to be won
Reader letters and stories – to share knitting ideas and projects
---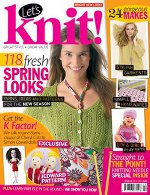 Let's Knit
The nation's liveliest hub of all things knitty! Packed with exclusive patterns, gorgeous yarns, quick 'how to's, designer inspiration and so much more, it's all you need to join the knitting community.
Includes tips & tricks, new patterns and free gifts in every issue.
Also, each month we bring you the latest bargains and offers from the Knitting Market through out the United Kingdom