The Land
A totally wonderful magazine; everyone interested in real change should read every word of every issue. Articles on agriculture, smallholding, renewable energy, international campaigns and especially UK planning policy.
In a shrunken world, taxed to keep the wheels of industry accelerating, land and its resources are increasingly contested. Six billion people compete to acquire land for a variety of conflicting uses: land for food, for water, for energy, for timber, for carbon sinks, for housing, for wildlife, for recreation, for investment. The politics of land – who owns it, who controls it and who has access to it – is more important than ever, though you might not think so from a superficial reading of government policy and the media. The purpose of this magazine is to focus attention back onto the politics of land.
Combines two previous publications – The Land Is Ours Newsletter, and Chapter 7 News. The Land receives no funding and relies upon subscriptions and donations to survive.
---
The Crofter
Magazine of the Scottish Crofting Federation (SCF). Rooted in our community, this is the only member-led organisation dedicated to promoting crofting and is the largest association of small-scale food producers in the UK. Our aim is to inform and broaden the debate on land issues, environment and rural development.
The Crofter is posted to all members of the SCF quarterly. If you enjoy reading the pages here, you can obtain your own regular copy of the newspaper by becoming a member yourself. Your support will be welcome and will help us further our work on behalf of crofting.
---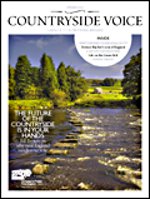 Countryside Voice
Countryside Voice is the CPRE's (Campaign to Protect Rural England) regular high quality magazine published three times a year. Through…
news and updates on our campaigning work
features by leading countryside and environment writers
lively opinion pieces
members' offers
letters from readers
beautiful photographs
…Countryside Voice keeps you informed of the CPRE's work, the issues facing our countryside and how you can help us protect it.
CPRE campaigns for a sustainable future for the English countryside, a vital but undervalued environmental, economic and social asset to the nation. We highlight threats and promote positive solutions. Our in-depth research supports active campaigning, and through reasoned argument and lobbying we seek to influence public opinion and decision-makers at every level.