Eco Kids Planet
Eco Kids Planet magazine is filled with amazing animals from all over the world (as well as those you'd find in your own back garden), Eco Kids Planet is a real favourite for kids all over the UK who just love finding out about the natural world around them. With fabulous features in every issue on the habitats, habits and fun facts of the world's most interesting creatures, it's a must-read for all the family!
Eco Kids Planet aims to introduce children to the wonders of nature, and encourage them to protect their planet. For kids aged 7-11. Ads-free.

---
Juno
Juno is a parenting magazine with an ethos based on conscious parenting, sustainability, social justice, non-violence and a commitment to personal growth and spiritual awareness. Juno is named after and inspired by the Roman goddess of birth, fertility, marriage and female genius.
Our aims are to acknowledge the valuable role of being a parent with all of its joys and challenges and to enrich family life and relationships by encouraging reflection, self-acceptance and peaceful parenting; building a sense of community and celebrating the roles of parenting and home-making.
Our broad editorial contains features, interviews, reviews, personal stories, crafts and celebrations. Contributions from our readers are central to the ethos of the magazine, and it is by sharing stories, ideas and information that we hope to empower you to be the parent you want to be.
---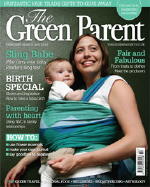 The Green Parent
The Green Parent magazine is the number one magazine for parents or parents-to-be who would like to bring up their children in the most environmentally-sound way possible. Fascinating articles on pregnancy and childbirth, health, play, education, nappies, breastfeeding, bed-sharing, kids' clothes, food, toys, parenting styles, green birthday parties – and much, much more.
The magazine is produced by a small team of passionate experts who live and breathe the positive message of the magazine. Their office systems are environmentally sound, they grow their own vegetables, recycle their waste, use public transport and generally enjoy a simple green life.