Philosophy Now
Philosophy Now is a newsstand magazine for everyone interested in ideas. It aims to corrupt innocent citizens by convincing them that philosophy can be exciting, worthwhile and comprehensible, and also to provide some light and enjoyable reading matter for those already ensnared by the muse, such as philosophy students and academics. Philosophy Now appears every two months. It contains articles on all aspects of Western philosophy, as well as book reviews, letters, news, cartoons, and the occasional short story. Since its small-scale launch in Britain in 1991, Philosophy Now has grown to become the most widely-read philosophy periodical in the English language. It is available from bookstores and newsstands throughout Britain, the USA, Canada and Australia. Philosophy Now is independent of all groups and has no intentional editorial bias except for a passionate conviction that philosophy is a Good Thing.
---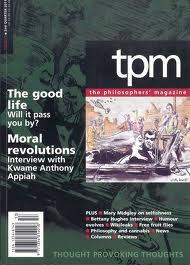 The Philosophers' Magazine
Founded in 1997 by Julian Baggini and Jeremy Stangroom TPM: The Philosophers' Magazine is an independent quarterly, devoted to presenting top-class philosophy in an accessible and entertaining format.
It regularly includes interviews with leading philosophers as diverse as Simon Blackburn, Daniel Dennett, Michael Dummett, Luce Irigaray, Hilary Putnam, T.M. Scanlon, John Searle, Peter Singer and Slavoj Žižek. The magazine also includes news, essays, reviews, features and regular columnists. TPM is edited by the philosopher and writer, James Garvey.