Co-operative News
Co-operative News, established in 1871, is the oldest co-operative newspaper in the world – and also, arguably, the oldest democratically controlled paper. It is published by an independent registered co-operative society, Co-operative Press Ltd. Membership of the Press is open to individual readers as well as to other co-operatives, corporate bodies and unincorporated organisations.
---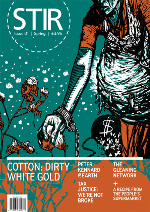 Stir
STIR started as an online magazine and has now launched as a quarterly print magazine that features articles and interviews on the international co-operative movement, the emergence of the commons and collaborative networks, and other community-orientated alternatives in technology, agriculture, food, sports, energy, education and other important aspects of our lives. We feature lots of original art from international illustrators and publish infographics on the themes we look at in each issue.
We are a reader-supported magazine and we are looking for subscribers to help us grow our magazine and build a strong financial base.
---