GBEzine
GBEzine is the latest incarnation of Green Building magazine that we first published in 1989. It is compiled by and for green building professionals and enthusiasts: architects, builders, developers and householders alike. It's purpose is to share information and encourage the increased use of more sensitive, caring and 'planet-friendly' techniques of building.
---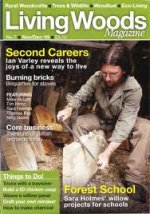 Living Woods
Living Woods magazine is aimed at anyone interested in trees, woodlands and timber. Living Woods covers everything from green woodworking, wood fuel and the use of timber in building and furniture, as well as focusing on woodland wildlife, forestry projects and campaigns to promote British wood and woodlands.
It has regular articles on buying a woodland and planting new woods.
Perhaps you dream of owning your own woodland, want to enjoy the therapy of quiet, green woodworking, or want to use wood as fuel to save money and fight global warming. This magazine is for you. Bi-monthly.