Vegetarian Times
For over 30 years, Vegetarian Times has been at the forefront of the healthy living movement, providing delicious recipes, expert wellness information and environmentally sound lifestyle solutions to a wide variety of individuals. Our goal is to remain a trusted resource for our faithful readers and to reach out to the new generation of full-time vegetarians and flexitarians who find themselves increasingly drawn to the health-conscious, eco-friendly, "green" lifestyle we have always promoted.
---
Vegetarian Living
Sample contents:
Exclusive interview with Jenny Seagrove
Everyday meal inspiration
Perfect pancakes: Quick veggie and vegan recipes
Fast food: Otarian's mission to deliver 'low carbon, good karma' meals
Sally Bee: Low-fat and delicious! Healthy eating for real people
On set with Simon Rimmer: Behind the scenes of Something for the Weekend
Hearty Soups: Complete meals in a bowl
Eat your greens: Nutritional advice for baby and toddler diets
Down on the farm with herb queen Jekka McVicar
Feelgood fashion
Cruelty-free haircare
Money-saving home eco-tips
---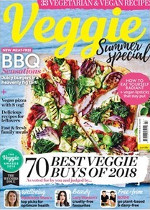 Veggie
Veggie magazine is the UK's leading vegetarian lifestyle magazine! Discover over 50+ mouth watering recipes each month which are all meat-free.
Perfect for those who are already vegetarian or looking to transition their lifestyle, you will feel inspired by the food advice for Veggie columnists. Transform your life with a Veggie magazine subscription, packed with beauty, homeware, style and food advice on how to live a more ethical and conscious life.
---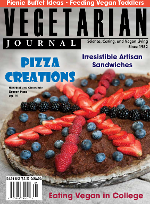 Vegetarian Journal
The Vegetarian Journal is the magazine of the Vegetarian Resource Group (VRG) is a non-profit organization dedicated to educating the public on vegetarianism and veganism and the interrelated issues of health, nutrition, ecology, ethics, and world hunger. In addition to publishing the Vegetarian Journal, VRG produces and sells cookbooks, other books, pamphlets, and article reprints.
Our health professionals, activists, and educators work with businesses and individuals to bring about healthy changes in your school, workplace, and community. Registered dietitians and physicians aid in the development of nutrition related publications and answer member or media questions about the vegetarian and vegan diet.
---