Living Woods
Living Woods magazine is aimed at anyone interested in trees, woodlands and timber. Living Woods covers everything from green woodworking, wood fuel and the use of timber in building and furniture, as well as focusing on woodland wildlife, forestry projects and campaigns to promote British wood and woodlands.
It has regular articles on buying a woodland and planting new woods.
Perhaps you dream of owning your own woodland, want to enjoy the therapy of quiet, green woodworking, or want to use wood as fuel to save money and fight global warming. This magazine is for you. Bi-monthly.
---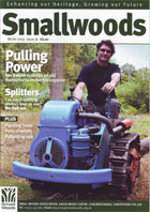 Smallwoods
The Smallwoods magazine not only contains practical advice for both woodland owners and managers, it is full of articles; Editor's and Chairman's comments; SWA news; regional reports; woodland news; reviews; a comprehensive diary of events; views from the regions; project profiles; opinion columns etc. It is published quarterly – in early January, April, July and October. It aims to provide woodland owners and managers information and advice to enjoy and maintain thriving woodlands. The magazine features articles on woodland management, planning permission, wildlife and biodiversity, woodland activities, and legal considerations, plus news of grants, publications and new products.
Small Woods magazine is the membership magazine of the Small Woods Association – promoting the well-being of small woodlands and all those who own, manage or work in them.
---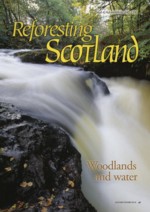 Reforesting Scotland
The Reforesting Scotland Journal was established in 1989 as The Tree Planter's Guide to the Galaxy, a journal aimed at 'people growing and planting trees for conservation or environmental rehabilitation'. It became the Reforesting Scotland Journal in 1991. The new organisation was established to develop the vision of The Tree Planter's Guide to the Galaxy and to support the growing network.
The publication of a magazine remains central to the work of Reforesting Scotland, as the main tool to spread information about ecological and social regeneration of Scotland. Each issue carries a range of articles dealing with a specific theme, as well as regular 'Woodland reports', the 'First shoots' guest column and other frequent threads such as 'Artists in wood' and 'Schools report'.
If you join Reforesting Scotland, you will receive a copy of the Reforesting Scotland Journal and The Radical Rowan Newsletter with your subscription. Copies of the journal are also available to non-subscribers.
---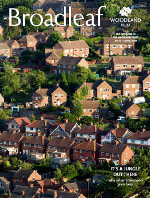 Broadleaf
Broadleaf is the Woodland Trust's membership magazine. Full of fantastic photography and fabulous articles about the Trust's activities and latest acquisitions, it's a great read. It also contains spotlights on their best sites, walk in the woods features and country specific news for Scotland, Wales, Northern Ireland and the English regions.
The Woodland Trust is the UK's leading woodland conservation charity. They own and care for over 1,000 woods, covering 50,000 acres (20,000 hectares), virtually all of which are open for all to visit. They have 194,000 members, whose support helps them acquire and restore ancient woodland sites, fight to save woods under threat, campaign on important issues such as climate change, and create new woodland for wildlife and people to enjoy.
---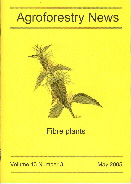 Agroforestry News
Agroforestry News is a quarterly newsletter, focusing on temperate tree and shrubs crops, and includes:
reports on agroforestry research projects
regular articles on fruit and nut growing
in-depth profiles of unusual tree and shrub crops
native tree profiles
propagation techniques
forest gardening
useful ground covers
book reviews
Essential reading or all who are interested in temperate tree crops and agroforestry