Posted January 28th, 2016
New, cheap tap fitting that does seem to save water without causing flow problems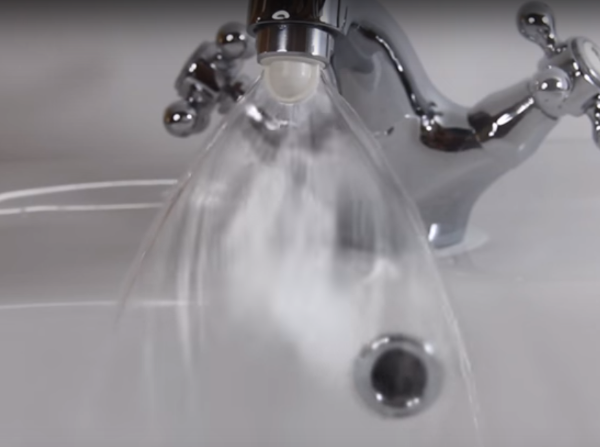 I was sent a 'Waterblade' by Nigel – it fitted onto our bathroom tap easily, and the reason it causes no problems is that it spreads the water out into a thin sheet that actually makes it easier to wash your hands, for example, rather than more difficult. I reduced the flow from the hot and cold taps using the isolating valves, so that we were using about half the flow / volume of water, but it caused no problems at all. At £7.50, it won't be long before it pays for itself (although I got mine for free, sorry). Dave.
Over to Nigel.
————————————————————————————————————————————
My engineer's brain designed a tap nozzle that heated the water passing through it using only the force of the water to drive a small turbine that ran the heater. Brilliant! But deranged. I reasoned that I would have to reduce the amount of water that was heated as there would not be a lot of energy, and thought that if the water was spread into a thin sheet that might do the trick! The Waterblade was born.
Waterblade takes a trickle of water and spreads it into a paper thin sheet of water, through which you can draw your hands, (toothbrush,razor etc.) It is actually a remarkably effective and efficient way to wash your hands. It took 2 years and 500 prototypes to get it working, but it is now available for sale. It can be fitted to 95% of mixer taps as long as they have isolating valves (most taps do). It uses half the water of even a water saving nozzle, and that could mean a combined water and water heating saving of £25 to £75 per tap per year.
Here's the Waterblade in use:
It takes a trickle of water and shapes it into a 'Jelly Fish' shaped, paper thin sheet of water that is as wide as your hand. This is an extremely efficient distribution of the water. This is why in all our trials we have received positive feedback, despite the small amount of water used.
No other flow modification washes your hands so well using so little water!
Obviously how much you save depends on how often the tap is used and what you pay for your water and water heating.
Typically, The Waterblade operates at 2.5 litres per minute (l/m). A water saving tap with an aerating nozzle uses 5 or more l/m. A standard tap uses 10 to 20 l/m.
We calculate an annual combined water, wastewater and energy saving of Waterblade, per tap, could be £75 compared to standard tap and £25 compared to aerating tap. The full data sheet is available on request.
Our recent monitored office trials showed a 'real life' saving of £32.00 per year per tap on the water cost alone. The full trial report is available on request.
More info on our website.
---
The views expressed in our blog are those of the author and not necessarily lowimpact.org's
---
Leave a comment