Posted March 11th, 2020
It's all systems go for Bridport Cohousing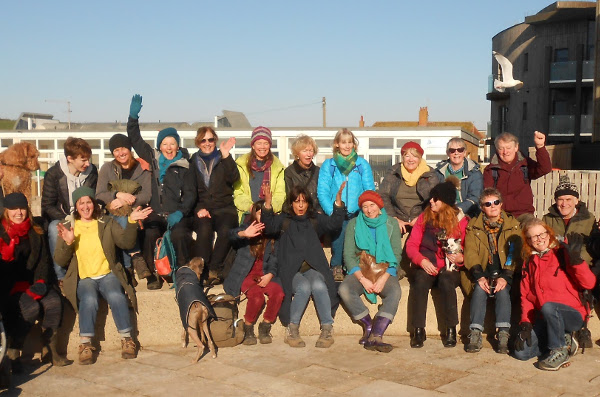 We're delighted to share exciting news from the team behind Bridport Cohousing, who are now all set to build 53 affordable eco homes in the largest cohousing project of its kind in the UK.
---
It all started back in 2008 when the idea of building a cohousing scheme for Bridport came into being and a group of local people from the town got together to hatch a plan and with the encouragement of West Dorset District Council (now Dorset Council), Oliver Letwin, (local MP) and a small group of business professionals. It took several more years for the concept of building much needed affordable housing for people born and raised in an area where house prices had been forced out of their hands, and the idea of becoming a Community Land Trust took root.
Bridport Cohousing, with the support of Dorset Council, Homes England and their partner housing association, Bournemouth Churches is now set to build 53 all affordable eco homes – the largest cohousing project of its kind in the UK. Dorset Council Portfolio Holder Housing and Community Safety officer Cllr. Graham Carr-Jones praised the foresight of the Bridport group for setting up a community land trust to get the project off the ground and for raising £250,000 from community loans to buy the site, telling a recent cabinet meeting:
"This is seen as an innovative approach… it is a ground-breaking development. Once again, this is Dorset leading the way."
The eleven year journey has not been easy. As with most community-led projects there was a huge amount of work to be done to navigate the planning system and to get funding into place before anything could be built. The members have been within reach of getting their homes built several times, only for delays to dash their hopes, but their resilience and the indefatigable perseverance of their professional advisor, Charles Couzens of EcosMcLean has finally enabled a successful outcome.
Because of the timing, they were able to take advantage of grant funding available from the government. Dorset Council agreed to enter into a contract with Homes England for a grant towards the infrastructure costs of the project. A grant had earlier been given towards the land purchase and a grant from Homes England has now been paid directly to their partner housing association, Bournemouth Churches, who will soon instruct local builder CG Fry to start infrastructure work on the site.
Speaking about the project Growth Manager Helen Bone from Homes England stated:
"We're really pleased to be able to support this scheme. It's been great to see how the community has come together to take the lead and progress this development. Community Housing offers a way for local people to take an active role in shaping their communities, and this scheme is a great example of this."
Twenty six of the 1 bedroom flats and 2, 3 and 4 bedroom houses will be for social rent through the housing association. Twenty seven of them will be of leasehold purchase either at 80% of market value or through Help To Buy South, and available from 25% – 75% market value. Bridport Cohousing CLT is the freeholder of the land and, because the highest rate of purchasing a home is 80% and there is no 'right to buy' on the rented homes, this will ensure affordability for generations to come.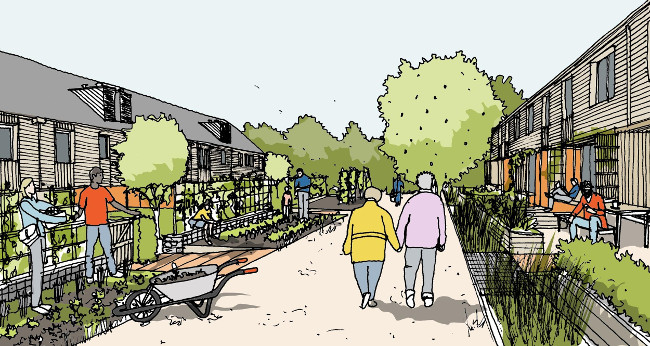 The build will be to AECB Silver Standard (almost Passivhaus), highly insulated and with solar panels linked into an on site microgrid with batteries, giving low priced energy to this all electric site. As with most cohousing projects there will be a common house providing shared resources such as a dining and socialising space with kitchen, children's playroom, office space and laundry facilities and the residents here are also extremely fortunate to have a two acre green space for food growing and leisure activities. Parking around the perimeter of the development will be made available to residents to help keep the main streets car free, providing safe space for children to play in.
Bridport Cohousing has a Local Lettings Policy in place which ensures that the homes will be allocated fairly and transparently with an eye on diversity and being local to the area. Off-plan sales of the leasehold properties is being taken up at the present time and the rental properties will be advertised through Dorset Homechoice in due course.
One of the benefits of the scheme having taken so long is that it has enabled a strong bond to grow between members, some of whom have been there from the start. There is a robust membership process and regular ''Meet The Neighbours'' events are held most weeks in and around the town. These can be walks or sessions in local cafes or pubs, which enable curious enquirers, potential new members and established members to meet up, ask questions and get to know each other, ensuring a high level of mutual trust and understanding even before they move onto their site, which will be called ''Hazelmead.''
One of Bridport Cohousing's newer members says:
"The Cohousing Project has given me and my family a tangible sense of hope for a sustainable (secure, ecological and affordable) future in Bridport, the town we live, work and raise our family. I have found the community warm, welcoming and respectful of all our varying needs and desires for the future. I look forward to my children having both freedom and a voice in the way they live and to find a supportive and actively engaging home which we all invest ourselves in."
That just about sums it up!
---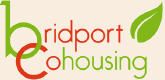 About the author
Bridport Cohousing CLT are working to create an affordable cohousing neighbourhood in Bridport. They own a beautiful 7 acre site on the edge of the town, have full planning permission and are poised to start building.
---
The views expressed in our blog are those of the author and not necessarily lowimpact.org's
---
Leave a comment