Posted August 26th, 2015
Autumn foraging season soon – here's some inspiration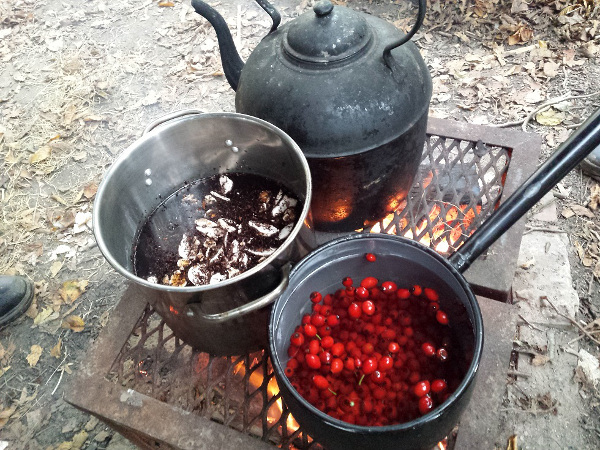 Arriving at the beautiful setting of WOWO, I immediately knew I'd done the right thing ignoring cold-weather challenges to get myself to this workshop. Given the warmest of welcomes, we were invited to form a circle and take a moment to think about
what plant we felt like in that moment. We were to bear in mind aspect, habit, size, space, sun/shade. I was in the grip of a terrible cold and had forgotten my lunch, so with nasal voice offered I was a plant needing something to lean on because I was weak and probably needed looking after. One of the tutors, Anna, said 'Then today you're honeysuckle – a fragrant but fragile flower that needs some support'.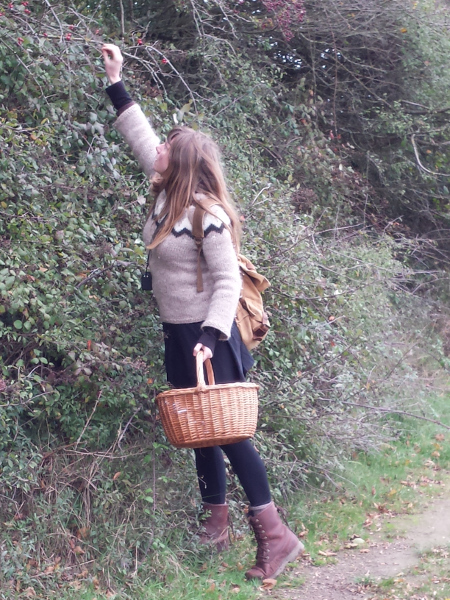 This unusual way of opening had the wondrous effect of bringing the whole group into one time and space, leaving temporarily aside any issues from 'the outside world'.
Following this grounding start, Anna went on to give a brief overview of the ethics of foraging, seasonality and what could be collected when; spring greens, summer flowers, autumn berries, winter roots. Then we were all on the move, off to begin the ingredient hunt for our mysterious feast later.
Anna Richardson specialises in wild food and bush-craft and has a wealth of information to impart, ranging from history and healing to folklore and nutrition. She also has that rare ability to hold her audience spellbound. I noticed how at times we were all completely captivated by her storytellings, as she interwove lore and truth around her beloved plants. We learned of the gender elements of nettles, the biomimicry of Velcro and beggars buttons, were warned off umbellifers and had a surprising amount of fun pinging (delicious) Himalayan Balsam seeds.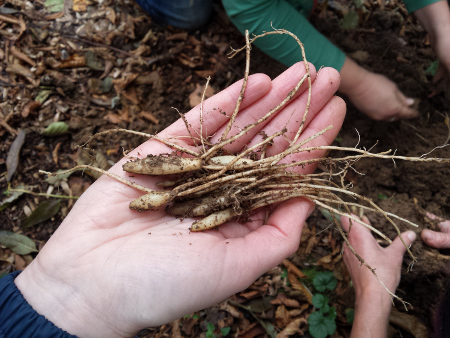 Joining Anna as co-tutor on this course was Lucinda Warner, a medicinal herbalist. It was easy to see these two women provided a good balance as Lucinda's emphasis is medicine and plant science, particularly in this case bracket fungi.
After a morning of walking, talking and collecting, we took to the woods to prepare for lunch – and of course build the camp fire. We were treated to a display of primal skill as flame arrived almost effortlessly using stones…and a mushroom! Cockles warming, rosehip tea steaming, we set out our shared lunch. The wholesome experience of breaking bread together under a simple shelter in enchanting birch woodlands was nourishment to hearts, souls and bellies.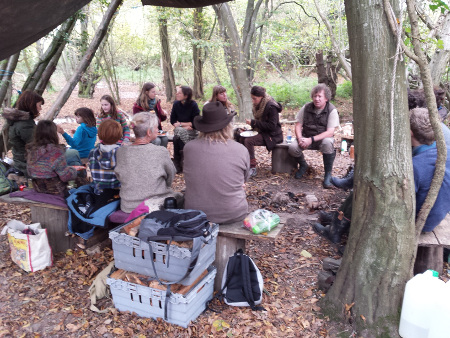 Energies revived, some worked as a team to chop the fruits of our harvest, creating food parcels to be leaf-baked on the fire. Others created medicinal mushroom potions, worked acorns or tended the ancestral fire of the children's hazelnut oven. There was beauty in the way the young people were included but kept a little apart; trusted but watched.
And when embers burned low and light faded, we took a moment to sit, reflect, connect and appreciate. So many learnings, so many levels: a deep sense of satisfaction and fulfilment settled over the gathering, bonding us together in a shared moment of love for mother earth and her beauteous bounty.
http://www.wowo.co.uk/faq/30-services/107-anna-richardson-wild-crafts.html
---
The views expressed in our blog are those of the author and not necessarily lowimpact.org's
---
1 Comment
1

Alice Bettany September 14th, 2015

Gorgeous blog, thank you
Leave a comment