Posted November 21st, 2018
Big news for Bridport Cohousing CLT as a planning decision is reached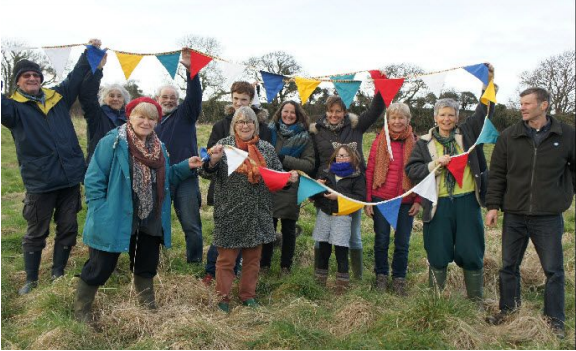 We share exciting news from Bridport Cohousing CLT in Dorset, as they celebrate a landmark step in their work to build a neighbourhood with a difference. Over to them to tell us more from here.
---
On Thursday we were granted full planning permission for Phase 2 of the development. This means that we can now build the whole scheme in one go, saving time and money. An application for grant funding is lodged with Homes England to help with infrastructure costs and we envisage starting ground works in the New Year. Using a modular build will speed up delivery of homes on site and we aim to have the common house built and the first homes moved into by late summer 2019. Off-plan selling has begun and we have a micro-website set up with details of the scheme and how to register interest and apply for homes.
We are now seeking new members and actively looking for people to join us. After ten years of hard slog, the end is in sight! Bridport Cohousing will be the largest cohousing and CLT project in the country with 53 affordable homes for leasehold purchase and for rent. A mixed tenure, we hope to remove the idea from some people's minds that folk who live in private and social housing are 'different' and that cohousing is some kind of 'hippy commune'. Similarly, we also seek to challenge the idea that social housing should not be built to the same high standards of design and finish that private housing is built to.
We are soon to start building 53 affordable homes on a 7 acre site in an area of outstanding natural beauty and within walking distance of all amenities in the thriving market town of Bridport, West Dorset. This ancient Saxon town offers a vibrant culture of festivals, local food, arts and heritage and, while it is surrounded by breathtakingly beautiful countryside, it is only a short bike or bus ride to West Bay and the Jurassic Coast and a few hours journey to major cities like London and Bristol. The project will be situated in a peaceful location on the northwestern edge of Bridport next to the NHS Community Hospital and Allington Hill Nature Reserve, and is surrounded by fields and open countryside. It has been sensitively designed to sit well in its rural landscape.
This will be a neighbourhood with a difference, with a focus on cohousing, where streets will be car free and a shared common house will offer extra social amenity space. As well as private homes with gardens, residents will have access to food growing land and extensive green open spaces. Homes will be south facing and built to high standards of construction and insulation (AECB Silver Standard) with solar panels for electricity generation linked to an on-site smart grid.
What does cohousing mean?
Like many good things, Bridport Cohousing started with a group of people coming together to share an idea; to design and create a beautiful shared space in which to live, work and play, which would benefit the wider community as well as its own residents, under the guiding principles of equality and sustainability. The whole development has been designed by the members of Bridport Cohousing working together with professional advisors and an architect. The underlying vision was to design the site in such a way that it would encourage casual social contact and a sense of neighbourhood. Cars will be kept to the perimeter, giving adults and children a safe place to move about and play in.
What makes it really different is that each house and flat is self contained and private, but the residents also benefit from having extra facilities in the common house and outdoor space, which they collectively own. It's about sharing resources – not every household needs to own their own car, washing machine or set of gardening tools, for example, nor do they necessarily need an extra bedroom for guests who might only visit occasionally – there will be guest bedrooms for rent within the project.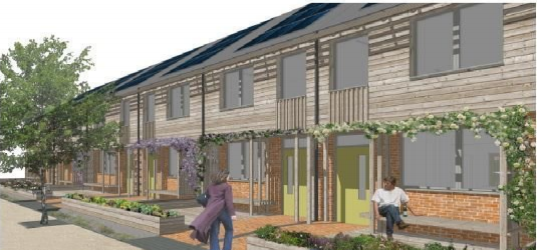 And finally, the whole development will be managed by the residents, using Sociocracy (or Dynamic Governance). This is especially valuable, as everyone's voice is considered in the decision making process, young and old alike. We use the principle of 'consent' rather than 'consensus', which means that we value significant objections as indicators of something that may have been missed and to address. When there are no fundamental objections to a proposal or idea then we say it is good enough to try and will evaluate its success periodically.
Our membership is organised into working circles which cover all aspects of the project, from cooking to gardening to membership process to finances. The circles can work autonomously and there are roles within the circles that provide feedback to all the other circles – everyone is kept in the loop and everyone has a role to play, as members are expected to give at least 8 hours per month unpaid work to help with the day to day running and maintenance of the site. This voluntary time helps keep service the charge to a minimum and creates social cohesion.
How sustainable?
Our builders will be an off-site modular building company, as local as we can find, and will contain a mixture of architect designed south facing terraces of 2, 3 and 4 bedroom houses and 2 apartment blocks of 1 bedroom flats. These homes will be built to the Association of Environment Conscious Building (AECB) Silver Standard, providing high levels of insulation which will minimise heating costs. The site will be all electric with solar arrays on all the roofs feeding into an onsite micro-grid and space and water heating provided by heat pumps.
The common house will be for the use of all residents, and provide extra social rooms, a kitchen and dining area (providing the option to cook and share meals together) and a laundry. There will be guest bedrooms in the apartment block, food growing areas, orchards, shared green spaces and a car club for those interested in reducing their car ownership. All of these factors can contribute to reducing the cost of living and residents will be encouraged to think creatively about how to minimise their carbon footprint.
An extensive area of amenity and food growing land sits at the top of the site. This will be landscaped to increase biodiversity and to provide a shared leisure area for residents. Covered bike storage will be conveniently near the houses and car parking will be restricted to the perimeter. Homes will be allocated one car parking space only, and residents encouraged to join a car share scheme, which will operate on site, operated either by ourselves or by a local car share company like Co-Cars of Exeter, who we are in discussion with.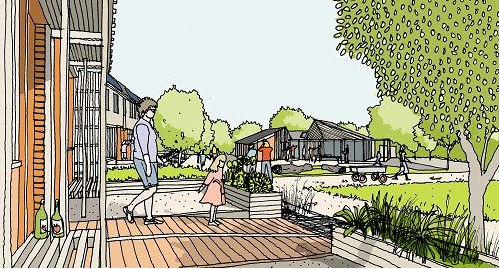 How affordable?
26 homes are for rent at 80% of open market value from our partner, Bournemouth Churches Housing Association. These homes will be available for people on the housing register who become members of Bridport Cohousing and support our commitment to sustainable living. Because we are a Community Land Trust and our goal is to keep these homes at 80% of open market value there will be no ''right to buy''. 27 homes are for 80% leasehold sale: the unsold 20% of the equity will remain in the hands of Bridport Cohousing Community Land Trust, again to ensure that the homes are kept at 80% of their open market value to protect the affordability for future generations. There is an asset lock written into our constitution which prevents houses being sold at full market value in the future.
All homes will be subject to a ground rent of £50 per year and an annual service charge of £5 per sq. metre to cover the running costs of the common house. We have a local lettings policy that applies to all residents, renters and buyers. The aim of Bridport Cohousing is to provide affordable homes for local people, and these will be prioritised. However, it is possible to become a member while currently living outside of the town and parishes if you can show that your skills, experience and commitment to living in cohousing would benefit the group and its collective aims and vision.
For information about how to apply to buy or rent a home please visit our website, where you can sign up to receive regular email updates.
Interested in learning more about cohousing in general? Head here.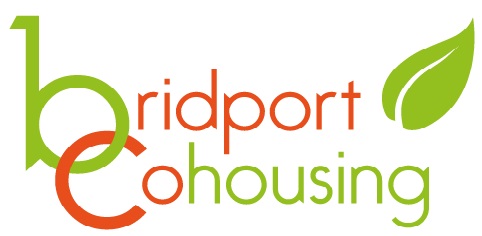 ---
---
The views expressed in our blog are those of the author and not necessarily lowimpact.org's
---
3 Comments
1

David Gregory November 21st, 2018

Please make sure that there are suitable charging points installed for electric car charging points. These can be linked with the solar arrays to utilise their generation or simply a basic socket arrangement.

This would future-proof the development regarding car transportation.

2

Monica King November 22nd, 2018

David Gregory Thanks for that warning. I'm glad to say that we do have car charging points in our design.

3

Monica King November 22nd, 2018

Correction of 2 errors in our piece that slipped through the net:

In the 2nd paragraph we suggest an incorrect difference in the build quality of homes for private buyers and housing associations. In practice housing association homes tend to be built to a more rigorous standard than homes for private sale, because housing associations specify for longevity.

In our 'How affordable' paragraph we refer to an asset lock. Its role is to ensure that no individual can benefit from any profit the CLT makes, only the CLT. To reassure potential buyers, this does not affect the right of a home owner to keep any increase in price when s/he buys and later sells at 80% of open market value.
Leave a comment