Posted March 29th, 2015
Bring back scrumping! Here's how…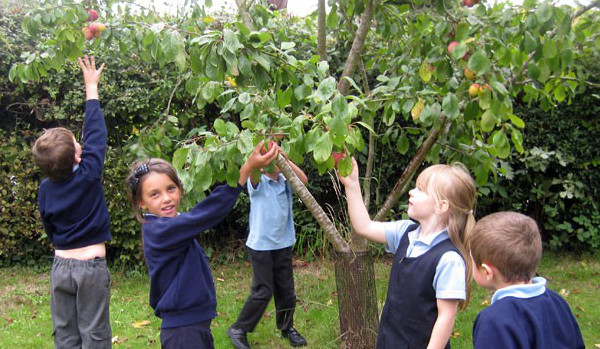 Local Fruit Futures manager Anne-Marie Bur plays a key role in turning schools across Sussex into grounds for the next generation of scrumpers.
"It's really heartening seeing kids picking fruit and eating it fresh."
Planting school orchards the breadth of Sussex – from Milland in far West Sussex to Northiam in East Sussex, just shy of Kent – Anne-Marie has worked to encourage healthy eating, bringing together the topics of food, health, and environmental care closer to the classroom.
An idea that sprung from her previous work at Action in rural Sussex, she realised planting school orchards would require help – and expertise. She was soon introduced to Bryn Thomas and Peter May of Brighton Permaculture Trust. With partners Brighton & Hove Food Partnership and Action in rural Sussex, Brighton Permaculture Trust has planted 70 school orchards.
Catsfield Primary School was the one of the first schools to receive help with planting a number of fruit trees. Typically, a school orchard consists of seven to eight trees. Practically, this number works out for planting with children over the course of a school day and also corresponds nicely to each of the year groups.
Part of the relationship Ann-Marie and Brighton Permaculture Trust have with the schools (and orchards) is to check in with follow up visits by either Bryn or Peter to ensure all is well or to take steps to prune or tend ailing saplings where it's needed.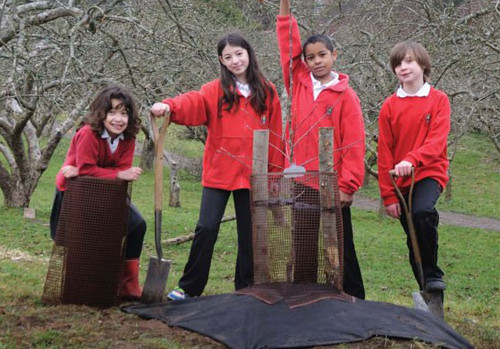 Following up with Catsfield for a report, Anne-Marie was trying to locate photos of the planting day. With none in sight, she got in touch with the school. They sent through photos of the school children collecting plums and making crumble, which she was told by the teachers had now become a school tradition.
"Ok, this works, I thought to myself, when I saw the photos. Here's evidence of kids getting direct experience of picking the fruit and eating it. What a great result!"
The Local Fruit Futures project that was managed by Anne-Marie and Bryn allowed Brighton Permaculture Trust to propagate rare Sussex apples, contributing to the preservation of particular cultivars as well as local traditions.
The Local Fruit Futures project also produced two books recognising the need for planting ideas as well as trees.
Written by Anne-Marie, Our Apple Orchards is aimed at children and school teachers. It is available online as a free downloadable PDF.
The second publication, Apples and Orchards in Sussex (available in bookshops, from here, and in the Food Shed in Brighton), was borne from a desire to connect the past with present and future growers. Experience of community orchards highlighted the challenges, and solutions, faced by fruit growers and orchards. By exploring the rich heritage of Sussex apples and orchards, the book looks to the past in a bid to contribute to the future maintenance of such treasured landscapes and sources of food.
The Fruit Factory will be one such chapter in the story of Sussex orchards and fruit trees. This is why the Brighton Permaculture Trust are so keen to have a home to bring together people and pommes (and other fruit!) to celebrate the incredible diversity of such durable sources of food and drink.
Help Brighton Permaculture Trust share that story. To find our more about our Fruit Factory crowdfunder, please take a look here.
---
The views expressed in our blog are those of the author and not necessarily lowimpact.org's
---
Leave a comment