Posted August 18th, 2016
Career change? There are not enough charcoal-makers to satisfy the demand for home-produced charcoal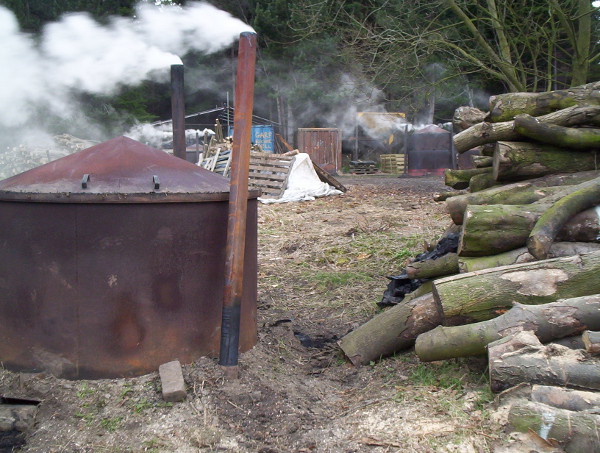 We interview Pete Grugeon of the Bulworthy Project, who explains that there's a gap in the market – with not enough charcoal burners to satisfy the demand for locally-produced charcoal.
Lowimpact: So what's the story with UK-produced charcoal?
Pete Grugeon: We're getting approached all the time to supply charcoal, but we're producing all we can, so we just pass the enquiries on to other producers. When we first started selling charcoal, we didn't sell to any shops that were already selling UK-produced charcoal, and in our first year, we produced 2000 bags. So that was 2000 extra bags on the market right away – but all these shops sell more and more locally-produced charcoal each year. It's a much better product, and when people have tried it, they always come back for more. We used to sell to Essential Trading, and we supplied an internet only outlet, but we passed those two contracts on to somebody else; we also had some delivery runs, but we passed those on too, as we have more than enough work supplying shops. We now produce around 3000 bags per year.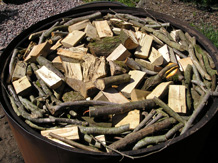 LI: Is this something that people who've never done it before can really aspire to do?
PG: It's hard work, but really, you can learn to do it in a day. People have attended a day course with us and then gone off and started a successful charcoal business. You'll get better at it the more you do it, so it becomes easier. Also, you can cancel your gym membership because it's really good exercise. Some people start to do it just to get planning permission to build a house on their land (you can get permission to build a home if you have a need to live on the land – and if you're a charcoal burner, that counts as a need) – which is a shame because it reflects badly on genuine people. And although it's hard work, it's a way of life more than a job – and yes, you can get permission to build a home on your land if you're a charcoal burner – another big benefit.
LI: Can you make a living?
PG: Yes, but you won't be rich, and it might be better as part of a wider business. For example, if you fell a decent-sized tree, some of the wood will be better used for planks, and some for firewood. But the odd-shaped pieces and scrap wood can be turned into charcoal. If you also do tree surgery or hedgelaying, for example, you could well have enough waste product to have a charcoal business too. Devon has 30,000 miles of hedgerow, and 2 tonnes of charcoal can be produced per mile of hedgerow per year, and the UK uses 60,000 tonnes of charcoal per year. So the waste from Devon's hedgerows could supply all the UK's charcoal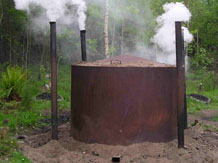 LI: What if you have no woodland?
PG: Well, there's a lot of neglected woodland in the UK, and the owners could be amenable to you using it to make charcoal – either for a fee, or for firewood, or just for managing the wood / clearing paths etc. You could take a kiln along to the woods and camp, or you could collect wood and take it back to your place to make charcoal. It might be easier to take a kiln to the woods, but it will be more efficient if you already have a kiln set up at your place. All the organic matter in the ground will have been burnt off, and there won't be any air gaps.
LI: Where can you get the skills?
PG: There are various course providers around the country, including ourselves – and we also cover charcoal sales.
LI: Where can you get the kit? And how much capital is required?
PG: Various places – you can look into it, and ask when you do a course. A kiln can be over £1000 new, but any price second-hand. We started with an old quad bike for £200, a 6×4 trailer, £600 new, a chainsaw, £500, PPE, £150 and a second-hand winch to pull trees down in your chosen direction, for £200
LI: How many more charcoal burners can the UK market absorb?
PG: Well, 60,000 tonnes of charcoal is consumed each year in the UK, and about 5% of that is made in the UK – so that's 3000 tonnes, which supports around 500 UK-based charcoal burners. So just doing the maths – it means that if all the charcoal consumed in the UK was made in the UK, there's room for 10,000 charcoal makers in the UK. Not all charcoal is going to be from the UK though, but the market for UK-produced charcoal is rising rapidly – the only thing slowing it down is the lack of charcoal makers.
LI: Why is UK-produced charcoal better than imported charcoal?
PG: Where do I start? People are just beginning to realise the ethical differences between local and imported charcoal. British charcoal is the product of good land management, and it uses all the small bits of wood that are not useful for anything else. It makes woodland jobs like restoring coppice / hedgelaying / scrub management more financially viable. On the other hand, a lot of imported charcoal comes from rainforests. An area of forest is bulldozed, then earth is bulldozed over the fallen timber, and it is then set on fire. It's not really regulated and it causes massive damage. But it's cheaper than British charcoal, unless we put tariffs on it. Tariffs would be a very good idea, but there's not much hope of that in today's neoliberal political climate. We get emails all the time asking if we want container loads of cheap charcoal from Nigeria or Indonesia – it's usually teak or mahogany, and definitely from rainforest. It would actually be more profitable for us to stop making charcoal and to sell container loads of imported charcoal – not that we'd ever do that. It just needs people to seek out British charcoal and stop buying imported charcoal. You see on forums all the time – 'I've found a bargain load of charcoal'. But bargain means rainforest destruction, I'm afraid. If you get invited to a barbecue, you might want to ask where they get their charcoal from before you accept. You might be doing them a favour when they understand. One more thing – UK charcoal never has chemical additives, but teak and mahogany are difficult to burn, as they're too dense, so they're soaked in an accelerant, which is petrochemical-based, something like lighter fuel, to get it to burn more easily. So when you cook over charcoal made this way, you get the taste and smell (and toxins) of petrochemicals in your food.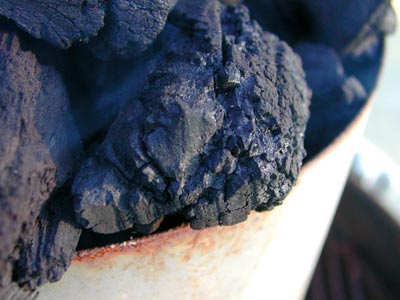 LI: What's the charcoal mainly used for?
PG: It's mainly used for barbecues, but a small amount is used in blacksmiths' forges. The 'fines' tend to be used by blacksmiths. The charcoal is graded over a 25mm mesh, and the smaller pieces are preferred by blacksmiths because smaller pieces have a larger overall surface area, and 'hugs' the metal, making forging easier. We also grade the fines again using a 10mm mesh, to make biochar. This can be sold mixed with manure – making a perfect 'shit and carbon' soil improver. We don't sell ours though – we use it ourselves. There's one more thing – and that's artists' charcoal. It's made from tiny willow twigs and it's very profitable, as it fetches a much higher price than barbecue charcoal by weight. It's used very slowly though, so not much needs to be made.
LI: Why do you think people haven't come forward to increase supply?
PG: I think the biggest barrier is access to land. There are tax breaks for woodland ownership – no inheritance tax, no capital gains tax, so people often buy woodland to pass on to their children to avoid inheritance tax. Lots of woodland is owned by this kind of investor and it's pushed up the price of woodland. I've argued against these tax breaks, because it attracts the wrong kind of person to woodlands. These people can often be approached by charcoal burners and allowed to use the land – the owners often don't know how to use it or manage it themselves. There's no security of tenure though. You could apply for temporary permission to live in the woods in a caravan on someone else's land, and if successful, it will increase the value of the land and it could be sold on. As I mentioned before, if people set up a charcoal making business for 3 years on their own land, they could get planning permission for a house, but then stop making charcoal – councils just don't have the resources to check. So planners are suspicious, and it makes it more difficult if you genuinely want to be a charcoal maker.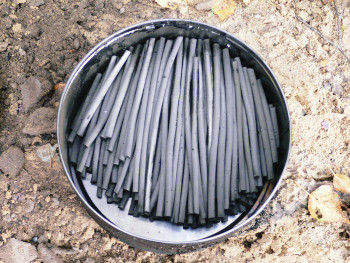 LI: What other inside advice would you give to people thinking about this?
PG: I think you'd have to be prepared to be really committed, and to lower your living costs. If so, it's an interesting, healthy, outdoor lifestyle. When we first started, we didn't know what we wanted to do with the land, apart from using it for leisure. But we started working the land, including charcoal burning, and we loved it. So we're very committed. We got planning permission to build our off-grid home, which we've done. So no mortgage, plus we don't need to go on holiday because we're already somewhere beautiful, we use our own wood to keep warm in winter, and we don't have any expensive habits. But the freedom, beauty and interesting, satisfying lifestyle more than make up for that – it's much more rewarding than we imagined. Also, we were told that if you rely on charcoal, one really bad summer when nobody buys charcoal, and you're bankrupt. This is not true if you market your charcoal as a high-end product (which UK-produced charcoal generally is). People who have spent a lot of money on a fancy barbecue will barbecue whatever the weather, even in the winter. The other thing is that packaging is all important. If you produce a quality product for a local market, you want your packaging to be very recognisable and to look great.
---
The views expressed in our blog are those of the author and not necessarily lowimpact.org's
---
5 Comments
1

Paul January 2nd, 2022

Hi my name is Paul I would really like to learn how to make charcoal and eventually set up myself in the Scottish highlands ,yet I've got no idea where to start other than

Contact the charcoal makers directly ,I'm happy to work making charcoal if opportunity's arise ,I'm based in Ripponden West Yorkshire but can travel anywhere in UK many regards paul

2

David Morris February 16th, 2022

Really interested in learning more, especially planning permission and the charcoal market

3

Rachel O February 17th, 2022

Hi, I looked into this in my early 20's but I was single and low on funds, instead I look after my own local woodlands by researching tips on the internet! So this has been a dream of mine and to read your brilliant blog is so inspiring. My husband and I are now financially ready to be able to either buy small woodland and or manage on behalf of an owner. We are ready and have planned a charcoal making course this summer. If you have any contacts or further advice anything would be appreciated please. Rachel O xx

4

Benjamin Jones December 23rd, 2022

Hi I would like some more information on your courses please

Kind regards Benji jones

5

Rebecca Stacey December 24th, 2022

Hi Benji,

The Bulworthy Project itself doesn't offer courses -but you can read about the project, and how they got started here.

We, here at Lowimpact, offer a range of online courses – and you can find those here.

Hope that helps!
Leave a comment