Posted October 3rd, 2016
How CETA will allow TTIP (RIP) in through the back door, and how you can help the Austrian Chancellor block it
Here are two sources of information about CETA (Comprehensive Economic and Trade Agreement) – and both of them are completely biased. They are biased against the interests of the corporate sector and in favour of the interests of ordinary people and communities. That's the kind of bias we like.
CETA is a similar EU deal to TTIP, but with Canada instead of the US. As most US multinationals have branches in Canada, it will allow most of the nonsense included in TTIP (like allowing corporations to sue governments if their profits are threatened – even by things like health and safety or environmental legislation) will be able to sneak in through the back door.
CETA needs the unanimous agreement of all EU governments, and the Austrian Chancellor Kern is very close to blocking it. He's under extreme pressure from the EU and from the corporate sector to sign, and so it's down to ordinary people to show that we don't want it. More information below.
1. Basic information / contact your MP
First, here's a pdf guide to CETA (TTIP's little brother) provided by Global Justice Now.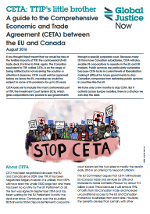 And here, Global Justice Now guide you easily through the process of emailing your MP to ask them to reject CETA.
2. More information / support the Austrian Chancellor
Next, here's some information from 38 Degrees, outlining the nefarious nature of CETA, and the fact that Chancellor Kern of Austria is close to blocking the deal. You can help to counter the pressure he's getting, by writing to tell him that as an ordinary European citizen, you think this deal will damage democracy, communities and the environment.
TTIP might be over. But there's a copycat trade deal waiting in the wings. [1] It's called CETA, it'd allow big businesses to sue our governments – and it's due to be signed in just a few weeks time. And the worst parts of it will apply to Britain 20 years after we've left the EU. [2] But together we've got a chance to stop it.
The Austrian Chancellor is on the verge of blocking the deal, and if he follows through, it's off. [3] But he's facing huge pressure from other EU leaders. [4] A huge show of support from people across Europe could give him the courage to stand firm and block the deal.
The Chancellor will make his decision on whether to block CETA in the next week. [5] So thousands of people across Europe are signing an open letter to show the Austrian Chancellor he's got support from the public. If you want CETA blocked, please can you add your name to the open letter?

Here's what the letter says:
Dear Chancellor Kern,

Please stand firm and block CETA.

People from all over Europe support you in your opposition to the dangerous Canada-EU trade deal.

We stand with you.
Just like TTIP, CETA could hand corporations the power to overturn our laws in their favour. [6] Everything from environmental protection to consumer safety laws could be under threat from profit-hungry multinational companies. [7]
If Austria's Chancellor knows he has thousands of people behind him, it'll be our best chance yet to stop this dangerous and secretive trade deal. Let's show Chancellor Kern that he has our support. Please can you add your name to the open letter now?

PS:38 Degrees members voted in our thousands to say that after Brexit Britain should negotiate trade deals that put people, not big business, first. [8] CETA threatens our food, environment and democracy – and the worst bits of it will apply to Britain for 20 years after we leave the EU. So let's make sure we block it while we can.
Here are six reasons why CETA is almost a carbon copy of TTIP, another dangerous trade deal [9]:
1. It contains many of the same dodgy terms, like allowing corporations to sue our governments if our policies and regulations dare interfere with their profits.
2. 80% of American companies have an arm in Canada, so this deal is TTIP by stealth. Those companies could start lawsuits against our government at the taxpayers' expense.
3. Experts are warning CETA threatens regulations that protect our environment, food production, and access to affordable medicines.
4. Like TTIP, it's designed to encourage privatisation wherever possible – in our healthcare, energy, water and transport.
5. Worst of all, if CETA passes easily it basically lays out a golden path for TTIP to pass too.
6. The EU has quietly asked Canada to rework some of the thorniest bits of CETA – such as corporate courts – because officials are worried that public opposition is growing.
NOTES:
[1] This is a good explanation of the story on CETA so far, and what the worst bits of the deal are.
War on Want: What is CETA?
http://waronwant.org/what-ceta
Here's another good guide to what's in CETA:
Global Justice Now: What is CETA?
http://www.globaljustice.org.uk/what-ceta
[2] Politics: The Canadian trade deal which will let in TTIP by the back door:
http://www.politics.co.uk/comment-analysis/2016/09/01/canadian-trade-deal-will-let-in-ttip-by-the-back-door
[3] This article from the Financial Times is behind a paywall.
"European and Canadian authorities are aiming to ratify the CETA at talks in Brussels next month but political resistance in Austria and Belgium presents a fresh threat to the pact as it cannot come into force without unanimous support from all 28 EU member states. The leadership of the Austrian government is divided on CETA."
https://www.ft.com/content/caa1f46d-7792-3c24-90aa-d0e9c7d248d1
[4] Politico: Europe nears trade deal with Canada:
http://www.politico.eu/article/eu-nears-trade-deal-with-canada-keeps-ttip-on-life-support-ceta-europe/
[5] This article from Politico is behind a paywall.
Junior economy Minister Harald Mahrer: "We expect that this declaration will be finished by next week"
http://www.politico.eu/pro/austria-to-agree-on-canada-deal-within-next-few-days/
[6] Global Justice Now: CETA: TTIP's little brother A guide to the Comprehensive Economic and Trade Agreement (CETA) between the EU and Canada:
http://www.globaljustice.org.uk/sites/default/files/files/resources/ceta-ttip-little-brother-global-justice-now.pdf
[7] This blog gives a good outline on why CETA will weaken our regulations, protections and increase privatisation:
Citizen Action Monitor: CETA: What it is and why it's bad for Canada:
https://citizenactionmonitor.wordpress.com/2013/10/26/ceta-what-it-is-and-why-its-bad-for-canada/
This article discusses how dangerous CETA is because 80% of US companies have subsidiaries in Canada:
Public Citizen: Tens of Thousands of U.S. Firms Would Obtain New Powers to Launch Investor-State Attacks against European Policies via CETA and TTIP:
https://www.citizen.org/documents/EU-ISDS-liability.pdf
Here's the story about the EU asking Canada to re-work some of CETA:
CBC: EU quietly asks Canada to rework trade deal's thorny investment clause:
http://www.cbc.ca/news/politics/canada-europe-trade-isds-ceta-1.3412943
[8] 38 Degrees: DIY Brexit results, trade section:
http://diybrexit.38degrees.org.uk/
[9] 38 Degrees: 6 things you need to know about CETA
https://speakout.38degrees.org.uk/campaigns/607
---
The views expressed in our blog are those of the author and not necessarily lowimpact.org's
---
Leave a comment