Posted January 6th, 2019
Co-operativising the tech sector: an interview with Graham Mitchell of Webarchitects & CoTech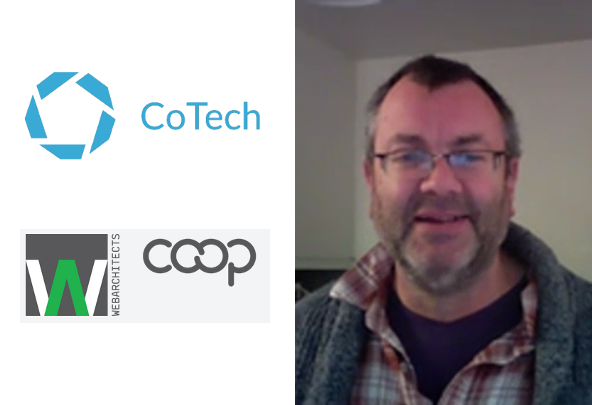 Today, we're talking with Graham Mitchell of Cotech about the co-operativisation of the tech sector. It's part of our series of interviews with people building the 'new economy'.
Hi Graham – tell us what you do.
All sorts of things. I worked for Co-operatives UK for 5-6 years. Before that I worked in a co-op in Southampton for 12 years. Now, up here in the Pennines, I've co-founded a greengrocer co-op in my local community. We took over a failing business, and it's still running now, nearly ten years on. More recently I've been putting more energy into three areas:
1. On a local level, we set up the Kirklees Solidarity Economy Network, developing community wealth-building strategies locally. The council here seem on board with the Preston Model idea. We're working with the Centre for Local Economic Strategies on that.
Can you just explain what the Preston Model is?
The Preston Model is about re-localisation of procurement, based on anchor institutions – big local organisations like the local government itself, NHS trusts, the police etc. – public sector bodies that spend a lot of money, and it's about re-localising that purchasing. In Preston, they've managed to bring £200 million back into the local economy, that was previously being spent elsewhere. It's also about identifying opportunities for local business development, and using co-operative models to fill the gaps.
So that's what we're trying to do in Kirklees, as well as influencing policy and doing practical things on the ground like establishing a small, local social care co-op pilot, with a view to seeing lots of replication of that. Size is key – we think small and human-scale is best in that model. And a co-operative set-up is critical in terms of engaging service users and care workers. Small co-ops can collaborate with each other in terms of regulatory compliance and back-office functions.
The other big thing we're doing on a local level is trying to develop some sort of co-operative support function locally, so that there's a 'front door' locally, so if people are interested in setting up co-ops, there's some point of contact for them on the ground, to get advice and early guidance.
2. So on a national level, I'm involved in a platform-co-op approach to co-operative development, which is Platform 6 – just open to new members. So if you go to the website, you can sign up as a member and start making a contribution.
I interviewed Mark Simmonds of Co-op Culture recently, and he told me about that.
Yes, Mark's my main co-conspirator in that. We're working with the Co-operative Assistance Network too. The thinking behind it is tackling the problem of the dwindling pool of co-operative development professionals. People are talking about doubling the size of the co-operative economy, but there's actually no infrastructure in place to be able to do that. Platform 6 is a response to that. We want to bring that expertise into play, mediated through a digital platform, so that we can leverage it much more effectively, and also bring other expertise into play as well – other people with a lot of experience of co-ops, but who don't call themselves development workers. Mark calls these people 'barefoot co-op development workers'. I class myself in that group. So we bring those people in, and give them opportunities to mentor, advise, support, and also to develop their own skills over time.
We're trying to work out how we can scale all this up, perhaps through local authorities who want to get involved in community wealth-building. Platform 6 could be a way for them to access a lot of expertise.
So I think we need to promote Platform 6 more – for people interested in getting into the co-operative world.
Yes, although it's early days. Our philosophy is 'pay to play', so if you want to participate, you need to sign up and make a contribution. It's small – £1 per week sort of thing, and that money will build into a resource, along the lines of the Solid Fund that we can use to fund our own development, but also to fund projects. For example, on of our first payments was for seats at some of the Stir to Action workshops that are going to be happening. So where the Solid Fund is for worker co-ops, we're trying to broaden that out – the best way to build the co-operative sector is for co-operators to contribute to making that happen – time, skills and money. The existing model of waiting for government to put money in isn't working too well. We're lacking ambition, I think. How many co-ops get created today each year? It's a few hundred at best. The number of new companies created each year is probably in the tens, if not hundreds of thousands.
Is the number of co-ops being created growing?
If it is, it's marginal. So if a few years ago, 100 new co-ops were created a year, and now it's 300, you could say that's a success, but it's still tiny when you compare it to the mainstream economy. So how do we reach a point where we're making some significant impact?
I'm really interested in what you're doing with CoTech. Can you tell me more about that?
CoTech is a loose network of worker co-ops that are involved in technology in some way. They're involved in a wide range of disciplines. When I saw that it was being created, I was really excited by the potential of it. As of yet, I don't think it's realised that potential. It's still trying to understand what its role is. There has been collaboration between members, and awareness of co-ops has been raised.
Is it a directory for people who are looking for tech services, but want to give their custom to co-operatives?
Yes, that's certainly one facet of it. So if you go to https://www.coops.tech/ you'll see the services that are provided, what co-ops are providing them, and you can contact them and commission them.
So we need to get CoTech onto NonCorporate.org. (NB we have – see https://www.noncorporate.org/it/)
That would be useful. So CoTech is a great initiative. The members get together from time to time to discuss the way forward.
What are the other facets of CoTech? What else is it apart from a directory for the public?
There's been some work around how to collaborate with each other. How these organisations can come together and punch above their weight in the market, and through that, maybe to secure bigger contracts. There's been some success there. There's also talk about how to take collective action. For example, there's talk about potentially contributing part of our income into a common pool, which can be used for development activity. Personally, I'd prefer to talk first about what we'd like to achieve, and then talk about how we fund it.
What's your ambition with CoTech?
There's a massive need to develop a new economy, and a technical resource within that. There's a lot of work going on, but it feels quite fragmented. Technology is playing a key role in a lot of projects – for example, in the development of platform co-operativism. In fact if you want to do business at all nowadays, technology is playing a more and more important role. It takes a lot of resource / energy to develop web platforms / applications etc., and if you can bring the collective weight of a group like CoTech to bear against that problem, then I think there's huge potential to make an impact.
I guess there are co-ops all over the country that are using tech services all the time, and really, they should be steered towards CoTech, to use the services of other co-operatives?
Yeah. It would be great if we could achieve that, because that would bring more money into the co-operative economy, and it would raise awareness of some of the issues around technology. Most people will be happy to sit with their laptop and use commercial services from people like Microsoft, Facebook and Google – megatech companies that are increasingly dominant players in the global economy. What we're trying to do – for example at WebArchitects in Sheffield, another co-op I'm a member of – is to help people to do their day-to-day business without being reliant on these mega-corporations. So it's about using free & open source software (FOSS).
So do you have tutorials to help people switch to Linux and FOSS?
I think people are becoming much more aware of the dangers of handing over their data to corporations like Facebook, Google etc. They're monetising that data, and increasingly controlling what we do, through their AI systems etc. It's becoming more and more difficult to be an independent human being. We're becoming more dependent on this matrix of corporate services, that is really quite sinister in many ways.
What do WebArchitects provide to help people get away from that?
They provide hosting services; they'll install Linux for you.
Will they? I'll add them to NonCorporate as well then. I'm a non-techie, and I wanted to switch to Linux. With all the guidance I found online, I got stuck at some point, because I didn't understand what they were saying.
Yeah. I think it's getting better, but you always get to a point where you reach the edge of your technical understanding, and you're stuck.
Exactly. So I sat down with a Linux specialist and went through every step with him. If he said something I didn't understand, I asked him to say it in a different way until I did. It worked. I'm now on Linux, and haven't touched a Microsoft product for years. So it can be done. If you go to NonCorporate, and go to the IT section, there's a step-by-step guide for non-techies to switch to Linux.
That sounds great.
Some people still won't want to do it themselves though, so I'll add WebArchitects to NonCorporate too, because if you can do it for them, that would be fantastic.
That would be good. Increasingly, I think people are becoming worried about the dominance of these organisations. They're seeing that their data isn't secure. Hardly a day goes by without news of another data breach, where people's details have been stolen. George Orwell would be spinning in his grave. Not only are people allowing this surveillance to happen, they're going out and paying for the privilege. They're buying Amazon Alexa or similar devices and putting them in their homes. Essentially, they're surveillance devices.
Even people who say they want a different kind of economy do it, which I find very surprising.
It's insidious. It's so easy to roll over and go along with it.
I think it's down to the co-operative 'innovators' to make it just as easy and cheap as the corporate alternatives.
Yes. But it's difficult. A few years ago, when we did the community buy-out of the greengrocer, locally, I got interested in the food industry – how do you promote local food, and all the community resilience around that, when you can go to the corporate supermarket and buy fruit and veg that have been transported from the other side of the planet, and yet they're still cheaper? The global food chain has been carefully honed over the years, and to compete against that is almost impossible in terms of price.
I suppose you have to start with the early adopters – the people who really don't want to give their money to the corporate sector – and then try to make it easier and cheaper for the mainstream. I think most people do get it, and would like to do the right thing if they can, but it's just not very easy to do, so we have to make it easier.
Any idea of what WebArchitects might charge to switch someone to Linux, btw?
I don't know, but I know that if I were to install Linux on a laptop, it would take me an hour at most, so not much. There are also lots of people scattered around who will help you if you're strapped for cash.
How do you find them?
I guess you just hunt around online. I know there are sometimes 'Linux install parties', where you take your laptop along and have a social evening, during which time you'd get Linux installed on your machine.
But back to what you were saying – I think you're right, we go for the low-hanging fruit, the early adopters, and get them on board to help grow that market, slowly but surely.
Highlights:
If you want to do business at all nowadays, technology is playing a more and more important role. It takes a lot of resource / energy to develop web platforms / applications etc., and if you can bring the collective weight of a group like CoTech to bear against that problem, then I think there's huge potential to make an impact.
It's important to help people to do their day-to-day business without being reliant on these mega-corporations. So it's about using free & open source software (FOSS).
Find the original interview here on our sister site Noncorporate.org.
---
The views expressed in our blog are those of the author and not necessarily lowimpact.org's
---
Leave a comment