Posted January 15th, 2023
Credit clearing: reducing the need for money and banks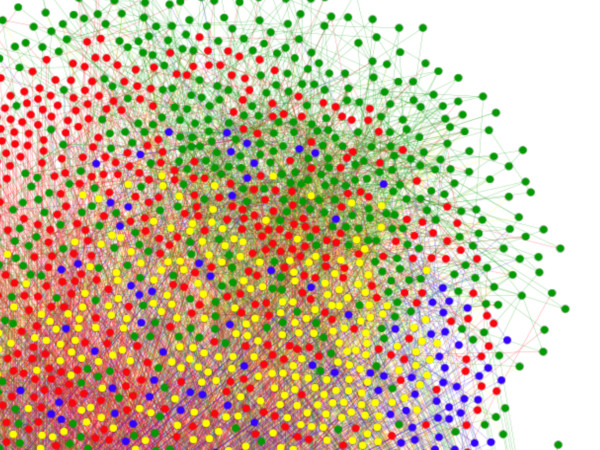 There's a new topic on Lowimpact.org – credit clearing.
It's an important part of the move towards a new, post-capitalist, commons economy.
The reason it's important is that it reduces the need for money and banks. Money is the commodity that gets sucked out of communities and concentrated in the hands of top capitalists, where it's used to skew democracy and make sure that the damaging, capitalist status quo maintains.
We can't fight this power directly, and because of their hold on the political world, we can't tax their wealth once it's been concentrated – but we can cut off the source of their power – by not using their money. The first step is reducing the need for it at all – via credit clearing.
Banks do it among themselves to save money – why shouldn't we?
A very basic explanation: imagine A owes B £10; B owes C £10; C owes A £10. If everyone has all the information, it can just clear, without needing money to pay debts. For networks of trading small businesses in any town – or even county – this can be done with algorithms, covering larger and larger areas.
The beauty of a large credit clearing network is that clusters of businesses that trade regularly can be found, that can provide credit to each other in a 'trade credit club', where the business involved bring their accounts back to zero at regular intervals.
But then if the small group decide not to bring their accounts back to zero, but to give limits to how far each member's account can go into the positive or the negative. Then, they have a de facto mutual credit club, that doesn't require money to operate at all, and – voilà – there's nothing to extract and concentrate in the hands of an elite few.
Next week we'll be posting an interview with Michael Hallam, who's involved with setting up a credit clearing network in Lancaster, that could spread across Lancashire. He's been working with our partners, Mutual Credit Services to develop a network called Local Loop Lancaster & Morecambe. I'll be asking him how it works, how they're doing, what are their ambitions and where people can find out more or get involved.
And the week after (or maybe the one after that) we'll be posting an interview with Hans-Florian Hoyer, an academic specialising in the history of credit clearing – especially at medieval trade fairs. I'll be asking him how he got into the subject of credit clearing, what problems it solves, the important things about the history of credit clearing that people should know, and how they relate to what's happening today. I'll be asking him about his views on the importance of credit clearing for helping to get us out of the mess we're in.
Here's the new topic: credit clearing.
---
The views expressed in our blog are those of the author and not necessarily lowimpact.org's
---
2 Comments
1

Fi January 15th, 2023

I would be interested to know if anyone planning any credit services like this in the South West and if what companies or individuals have expressed an interest. I've always thought bartering was the way forward as it's anonymous and can't be regulated or taxed by organisations with ulterior motives.

2

Sistar kenya January 16th, 2023

Sounds feasible In theory, like the 1st comment , Bartering could also be considered as alternative systems to navigate around current poverty indicators that Governments & Banking systems have created . Look forward to engaging in the presentation .

Thank you

Peace
Leave a comment