Posted October 24th, 2016
Ditch the bleach: switch to natural cleaning to avoid toxins and carcinogens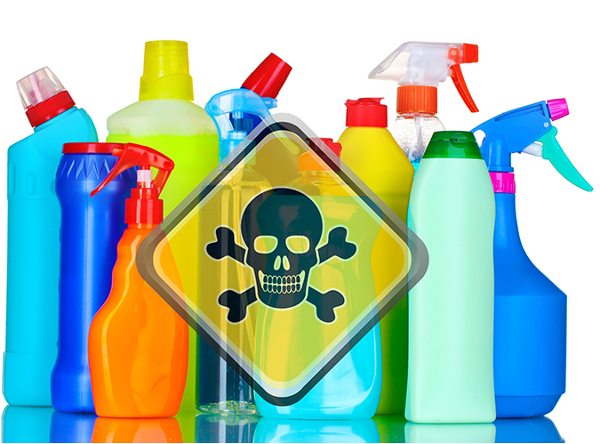 Every year there is a better understanding of the risks of toxic chemicals and more and more people are benefitting from a switch to natural cleaning. 
If you want to lower your risk of breast cancer then it is important to remember that many cleaning and laundry products can be toxic and include ingredients that are potential carcinogens.
Many of us grew up with house proud mothers who routinely cleaned loos, baths and sinks with chlorine bleach.  However, the wonderful whitening power of bleach comes at a cost….bleach is highly corrosive and can damage our skin, eyes and respiratory tract.
Bleach (active ingredient sodium hypochlorite) can be present in many cleaning products so always check ingredients lists carefully. For instance, the chlorine in some automatic dishwashing detergent mixes with food and steam to create a gas. When the dishwasher is opened and this gas escapes, it's highly toxic. The same can be true even in washing machines but at a lower level.  Never mix household cleaning products together, especially bleach and ammonia as this also creates a toxic gas.
These products should always be avoided but it is not always easy to spot the nasties.  Thankfully, there are alternatives that are safer and smell so much better and makes the whole cleaning experience a real pleasure!
It is important to research cleaning and laundry products properly before you buy – thankfully there is plenty of information on the internet.  If you are unsure, make a point of contacting the company direct for an informed answer.  Beware of customer reviews as these can be misleading, especially if you need information on the chemicals in the bottle.   Always be wary of products which do not list individual ingredients on the label – it is a sure sign of a cover up.   Companies that are proud of their ingredients palette will want to be transparent with their customers!
Cleaning and laundry products certified by The Soil Association specifically exclude potential carcinogens such as SLS, SLES and many other toxic chemicals– so look out for their logo on the bottle.
Many people email me about natural cleaning and the risks of traditional supermarket products.  Artificial fragrances can be a real hazard and many so called 'eco-friendly' cleaning and laundry products still include artificial perfumes.
If you want to use fragranced products I would recommend naturally-scented products that use organic essential oils. But for to people who have a higher risk profile or for babies and young children I would recommend organic non-scented cleaning and laundry products which are the safest option of all.
We started our company, Greenscents, because there were so few safe cleaning and laundry products on the market.  We had four young children at the time and we were very keen to reduce the toxic load on our family.  We suffered from skin allergies and asthma and I was convinced that we needed a more natural approach.
I had tried many natural alternatives including bicarbonate of soda, lemon juice and vinegar but although this helped to reduce the number of chemicals in our home, I found that this approach was time consuming and not always successful.  I wanted easy to use products that I could trust and so Greenscents was born!
So there you have it, there are simply no good reasons to include toxic cleaning products on your shopping list!  A return to natural cleaning is a sustainable option which complements a healthy diet and an organic lifestyle.
Join me in lowering your risk of breast cancer by making the switch to natural cleaning and enjoy the feel good factor of knowing that you are doing your best for your family and the environment.
This article was first published on the website of Breast Cancer UK
---
The views expressed in our blog are those of the author and not necessarily lowimpact.org's
---
Leave a comment