Posted September 2nd, 2016
Ecological Land Co-op are looking for an operations manager – might it be you or someone you know?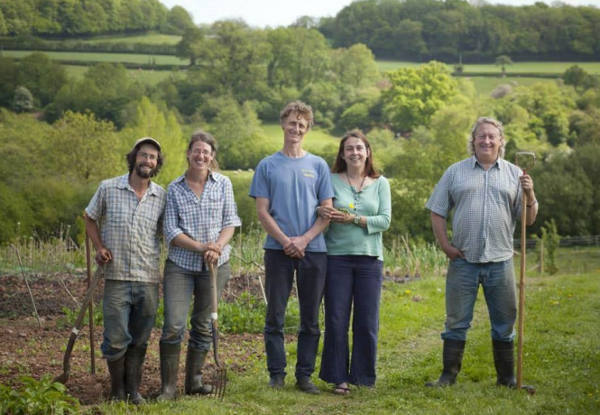 I am privileged to be a director of the wonderful Ecological Land Co-op, and we are currently advertising for an operations manager.
The Ecological Land Co-operative (ELC) is a social enterprise, based in Lewes, East Sussex. We exist to create affordable access to land for new entrants to ecological horticulture and mixed farming. Following the successful delivery of our first site, a cluster of three ecological smallholdings at Greenham Reach in Mid Devon, we have recently finalised the purchase of our second site, an 18.5 acre site in East Sussex.
We have an ambitious plan to deliver around 20 smallholdings over the next 4 years, and as part of this planned expansion we are creating a new operations manager role. Our new operations manager will be a passionate advocate of sustainable rural livelihoods and will be an experienced leader; someone who will relish the challenge of taking responsibility for the day-to-day management of our business, supported by our experienced and committed Board of Directors.
Below you will find information about:
the Ecological Land Co-op
the role
the job description
the person specification
how to apply
our model

The Ecological Land Co-op
The Ecological Land Co-operative is a democratic membership organisation, constituted as a Community Benefit Society. Our mission is to widen access to land for sustainable rural livelihoods. We currently employ eight part-time staff, and our strategic direction is led by our Board of Directors, which currently comprises six people.
The ELC works to create affordable access to land via the development of low-impact smallholdings. We believe that ecological land-based livelihoods can help solve some of the most pressing environmental and social problems of our time, and seek to marry ecological principles with sound business practice to help more people live and work on the land.
Our first project, a cluster of three affordable residential smallholdings, has provided three families with access to land to develop their own farm businesses. This type of small-scale ecological production delivers a number of benefits including protecting the environment, building vibrant rural communities, providing employment and training and supporting healthy diets through affordable, local produce.
Beyond this, our vision is one where land is valued and used as a means to enhance our collective good. At present land in the UK is the target of financial speculation; in contrast, our model champions a collective, ecological and co-operative vision of land ownership and land use.

The role
We're looking for an experienced leader, ideally with a background working in the charity, social enterprise or agroecology sectors. You will be passionate about our mission to widen access to land for sustainable livelihoods, and will be a decisive team player, interested in co-operative working and able to take responsibility for heading our staff team and leading the day-to-day running of the business.
Working hours: Full time (37.5 hrs per week), with 20 days annual leave (+ bank holidays) rising by one day for each year of continuous service, to a maximum of 30 days per year.
Salary: £ 25,928*
Based in: Brighton/Lewes, or potentially home based for the right candidate
Closing date: Thursday 29th September
Interviews will be held in two rounds. Round 1 in w/c 10th October, and round 2 in w/c 17th October.
* the ELC has a flat payment structure, with all workers paid at the same rate. As soon as our organisational productivity exceeds our business plan targets, we'd like to increase the level of pay across the organisation.

Job description
The operations manager will be responsible for:
Day-to-day management of our co-operative, as directed by the Board, with a high degree of initiative and autonomy
Short and long term operational planning based on the ELC's strategy, as set out by the Board of Directors (at the time of writing, in the ELC's 2015-2020 Business Plan)
Implementation of the operational plan, through working with ELC staff and contractors
Attending monthly phone or in-person Board meetings (not as a voting member)
Acting as line manager for all operational staff (currently four workers), while working alongside the ELC's executive directors
Setting and managing budgets (in partnership with the Finance Committee and Finance Manager) in order to achieve organisational aims
Reviewing our business plan and presenting suggested updates/changes to the Board of Directors
Pursuing and maintaining relationships with potential and existing key loan funders/major donors (in collaboration with the Directors)
Managing staffing levels and roles in order to deliver strategic goals as efficiently as possible
Delegating work to others within the staff team as appropriate
Identifying risks and creating strategies to mitigate them, supported by the Board of Directors
Ensuring organisational compliance with all relevant laws and regulations, e.g. employment law, health and safety, data protection
Ensuring adequate funding and finance is available for the work of the co-operative (through loans, grants, donations and legacies, and community shares), and ensuring that all funder requirements, such as financial reporting, are adhered to
Alongside Board members, representing the co-operative at events, presentations etc.

Person specification
| | | |
| --- | --- | --- |
| | Essential | Desirable |
| Demonstrated ability to successfully lead operational planning and delivery | x | |
| Experience of setting and managing organisational budgets and a high level of financial literacy | x | |
| Experience of a comparable leadership role | x | |
| Commitment to the aims and objectives of the ELC | x | |
| Experience of working within the environmental movement or third sector | | x |
| Experience of the low-impact movement or agroecological farming | | x |
| Demonstrated ability to work well under pressure | x | |
| Demonstrated ability to develop and maintain professional networks | | x |
| Understanding of, and commitment to, co-operative principles | x | |
| Demonstrated ability to manage and motivate staff teams | x | |
| Great communicator, with ability to appropriately tailor written and verbal communications to a range of audiences | x | |
| Strong team player, capable of working well in collaboration with others, and able to both take responsibility and respect the decisions of others (i.e. the Board) where appropriate |  x | |
| Experience of successfully delivering complex projects involving multiple actors |  x | |
| Strong IT skills and web literacy, including the Microsoft Office suite of programmes |  x | |
| Familiarity with web-based management tools such as Dropbox, Asana and Slack | |  x |
| Experience of fundraising, such as securing loan and grant funding, and community shares | |  x |
| Experience of co-operative management and inclusive decision making | |  x |
| Experience of planning policy, enforcement or applications | | x |
| Experience of property development and/or estate management | | x |
| Experience of successfully managing a geographically remote team | | x |

How to apply
Please apply with your CV, contact details of two professional referees and a cover letter addressing your suitability for the role, including the points raised in the person spec. Send your application to [email protected] The deadline for applications is Thursday 29th September.

Our model
Our co-operative purchases agricultural land with a view to subdividing it into a number of ecologically managed residential smallholdings. Drawing on the advice of organic horticulturalists and farmers, ecologists, soil experts, transport advisors, planners, prospective customers and those living locally and with local knowledge, we then propose a new smallholding cluster, including a binding whole-site ecological management plan.
As well as land, we provide smallholders with permission to build their own sustainable home, and with utilities and road access. Our model allows us to keep costs low, both through buying larger sites at a lower price per acre, and through distributing the cost of infrastructure, planning applications and subsequent site monitoring across a number of smallholdings. The model allows the smallholders to work and learn together and to provide mutual support. Our co-operative retains the freehold on each smallholding in order to protect it for agricultural and ecological use, and as affordable in perpetuity.
Our holdings provide rural employment, local food, and crucially, affordable access to land. However, the impacts of our work are wider than this; our creation of ecological holdings also:
Demonstrates a model of collective ownership that can protect and enhance the land, based not only on ideas of conservation, but on producing a living and working countryside
Contributes to, and strengthens the growing community of individuals and organisations committed to fostering the skills, knowledge and solidarity to allow the land to sustain us as we head into unpredictable times
Through our site monitoring provides research and impetus that helps strengthen campaigns for land reform
Seeks to improve planning policy by providing evidence and examples that low-impact ecological land use has multiple benefits and should be embraced and legislated for, not feared
For more information please see our 2015-2020 Business Plan, available from our website www.ecologicalland.coop
---
The views expressed in our blog are those of the author and not necessarily lowimpact.org's
---
Leave a comment