Posted March 12th, 2016
The environmental damage caused by flail cutting of hedgerows, and what can be done about it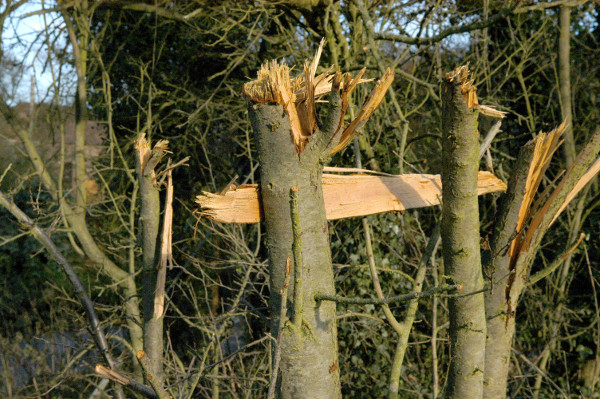 One of the most damaging post-war developments in hedgerow preservation was the increase in mechanised cutting of hedges, in particular using the flail. Above is a picture of a blackthorn hedge that has recently been flailed (picture by Donato Cinicolo). The damage is obvious.
Traditionally hedges were either trimmed or laid by hand. This was laborious work, but it was done with care and attention to the individual plants. Flail cutting means that hedge trees are repeatedly cut at the same point, this causes them to become gnarled and unhealthy, and can lead to a decline in the quality of the hedge (with resultant loss of biodiversity in the local environment). It also leads to a loss of mature hedgerow trees (as the older hedgerow trees die out and insufficient younger specimens are allowed to grow to maturity).
One can understand the problems farmers face in a more intensive farming environment – hedgelaying is the most effective way to maintain a hedge but is considerably more expensive than machine cutting.
There have been some improvements in the guidelines farmers follow when cutting hedges. The Tree Council suggest tagging trees to be allowed to grow to maturity, there are guidelines on how often a hedge should be cut and so on. However the most effective way of protecting our hedges would be to change the way that  subsidies for hedgelaying are administered.
Currently there are two government schemes encouraging good environmental practice to which farmers can belong. The schemes are called Entry Level Stewardship (ELS) and Higher Level Stewardship (HLS). Subsidies for hedgelaying are only available to HLS members,  a scheme that is restricted to certain landscapes and areas, such as heathland, moorland, coastal land, wetland, and small woodlands, especially where these exist on or adjacent to Sites of Special Scientific Interest.
It would cost money to extend hedgelaying subsidies to members of the more common scheme, the ELS, but it would be a simple and effective way to direct help to hedgerows in all areas, and to foster the art of hedgelaying*.
These are difficult economic times, but if as a nation we are going to place obligations on farmers as stewards of the land, it is only reasonable that we sometimes share the costs involved. Hedgelaying is not a cheap or easy process, but it makes a huge difference to our environment.
*This idea was suggested to me by Robin Dale of the National Hedgelaying Society.
---
The views expressed in our blog are those of the author and not necessarily lowimpact.org's
---
7 Comments
1

Joe Walshe March 13th, 2016

It never occured to me that Hedge laying could create an impenetrable barrier to keep animals in field and deer out. Considering the cost of fencing and the hazards of having animals escaping onto roads that could make hedge laying an attractive option.

2

rmfoster March 13th, 2016

This method of landscape management is an utter diabolical disgrace. It shouts that we do not care a hoot for nature, this hurts my soul so profoundly seeing our hedgerows butchered like this every year and it startles me that we have allowed such a monopoly of farming to change our country so definitively. Just who exactly allowed this handful of men to own thousands and thousands of acres, buying up all the small farms, who allowed these few men to take over Farming in the UK? These businessmen have fired so many land workers, destroyed communities, sold the homes or have allowed them to go to ruin, they have bought in immense gas guzzling machines that do the work of twenty men, which has only served to utterly ruin the farming community in one foul Century. And then they have the gall to tell us that we are losing the Bees, that Ash Trees, Beech Trees and Oak Trees are all dying, explaining how our country side is suffering on so many levels, whilst trying to convince us G.M.O is the way forwards. When are the good men and women of the UK going to realise how successfully they have been played and duped by a small group of despicable, cold, greedy men and find the gumption and wherewithal to take back our Country?????

4

Jane Williams March 13th, 2016

I live in The Vale of Glamorgan South Wales & see much evidence of hedgerows being cut using a flail. In contrast, having holidayed frequently in The Cotswolds, the management of hedgerows there is so much more sympathetic with widespread – evidence of hedgelayjng and planting of new hedge is widespread

5

N Onion March 14th, 2016

Flail cutting is widespread here in North Yorkshire – I've contacted the local wildlife trust in the past, when I've seen it done during nesting season, but they don't seem to be able to do much, just said 'some farmers have special permission to cut then' – ie. some farmers can do what they want, and hang the consequences. It makes me angry and sad that they can do this when birds are nesting – especially when it's illegal to disturb nesting birds. Then they do it again in the autumn, destroying all the fruit and berries – which are beneficial for us and wildlife. It's more evidence of the triumph of greed and money over what is best for the environment.

6

Judith Jones March 26th, 2016

Here in Lincolnshire the hedge flailing seems to start earlier than ever; the farmers now start as soon as they have the crop taken in which is now much earlier than in the past. This results in the annihilation of the autumn fruit harvest which would feed the birds and small mammals (and also our blackberry and sloe harvest!) There's little point in creating wildlife edges to the fields for nesting birds, only to destroy their autumn food supply needed to prepare themselves for winter. Also the flailing covers all our country roads in jagged twigs and thorns which are a nightmare for bike riders – it's simply impossible to get through a journey without a puncture. Again – rather pointless to promote bike riding and the sustrans cycle path routes and then have them made impassable.

7

annbeirneanimalwhisperert March 14th, 2019

I know this will sound naïve couldn't the good people in each area, who already have hedge laying skills teach other interested party's to do it too, I personally would love to learn how to do this and I'm not daft enough to know it won't take time, it would have to be done on a voluntary basis as the cost of having done seems to be one of the stumbling blocks at present, flailing is cruel, I love trees well all of nature really and I would like to help properly not just by signing petitions action is needed and there are people ready and waiting to do this I'm sure, I am going to see if I can find a hedge laying course here in Staffordshire. I hadn't realised why the hedges looked so damaged thankfully I now know, one of our country parks near where I lived must use a flailing machine it breaks my heart, leaving trees and hedges in these states allows disease to get in and kill them off, this is a criminal waste of a wonderful resource for nesting birds, insects and much much more,
Leave a comment