Posted June 7th, 2014
Ethical investments in renewable energy – you can make it happen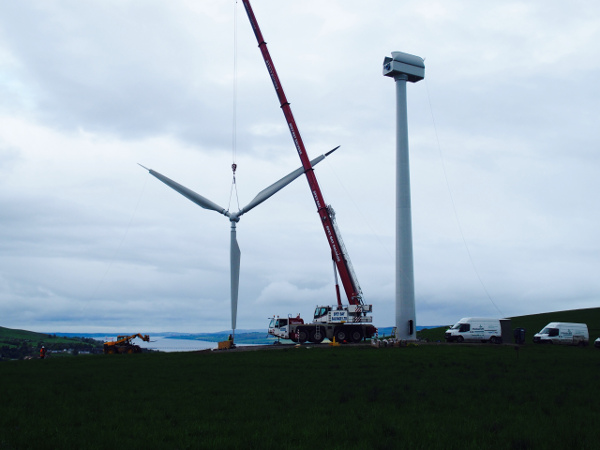 A quick update on Sharenergy-supported projects and share offers. Firstly some great news – the first wind turbine supported by Sharenergy is now up and running in Dingwall – see http://dingwallwind.org.uk/2014/05/24/turbine-up-and-running/ It's actually Scotland's first 100% co-operatively-owned wind turbine!
Hot on the heels is Wester Derry Wind Co-op which will use the same WTN 250kW turbine model. The share offer is still open – for some reason takeup has been relatively slow, perhaps because people saw how very locally shares were raised at Dingwall. In this case we would very much welcome members from outside the area – rural Perthshire is pretty sparsely populated! See http://www.westerderrywind.org.uk for share offer document and details. The turbine is now on order so it's definitely going ahead.
Turning to solar, we're proud to say that Leominster Sunrise Co-op was launched yesterday, looking to raise £150,000 for a 90kW array on the new primary school in Leominster. This is one of the largest arrays in the UK on a school and the first, we believe, of a co-op owned array on a new build school. The Head of the existing junior school and Sunrise director Felicity Norman were on BBC Hereford and Worcester yesterday talking about the project, both excited about the educational possibilities it will provide, as well as the cost savings the school will make. The array should be generating by September when the school opens and will save over 36 tonnes of carbon dioxide a year. Returns are predicted to be 4% (IRR), the equivalent of 10.4% with Seed EIS tax relief, for which pre-approval has been granted. For more information and to download the share offer document, see: http://www.leominstersunrise.org.uk.
As with all our share offers you can get a hard copy by calling us on 01743 277119.
Many congratulations to LGV2 who have reached their minimum target – their share offer ends formally today although we understand they will still accept applications if you're quick: http://www.llangattockgreenvalleys.org. A few years ago the idea that a co-op could raise £600k in South Wales for hydro would have seemed fanciful (and indeed several people told us it couldn't work). Well, they did it – and we're proud to say we played a part.
We're busy on other projects too numerous to mention – some share offers lined up for the coming months – we'll be keeping you up to date as they develop.
One more major achievement we wanted to mention: we obtained EIS tax relief for the members of Woolhope Woodheat. This had been in question due to Government policy and HMRC practice. It's really good news that this has come through, and gives hope to the new crop of renewable heat projects that we are working on in schools, swimming pools and villages.
All the best
The Sharenergy Team
---
The views expressed in our blog are those of the author and not necessarily lowimpact.org's
---
Leave a comment