Posted February 9th, 2017
Career change? How about making your living from making and selling baskets?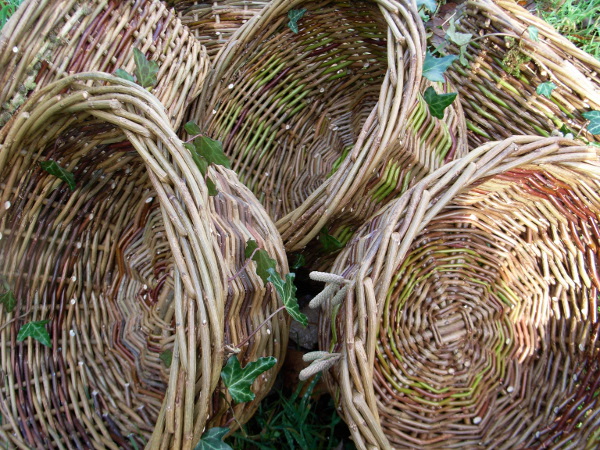 This is an interview with Fran Blockley of Old Chapel Farm about the potential for making your living from making and selling baskets.
Lowimpact: I know you don't make your living from basketmaking now – but you did at one time, didn't you?
Fran: Well, it was my partner Kevin actually. I gave it a go, but I was nowhere near as fast as him, so it didn't make sense for me to do it. Kevin made baskets and I did other things, but helped to sell them and source the materials.
LI: When was this, and how did you get into it?
FB: This was almost 30 years ago – but actually, I think it's easier to make a living from basketmaking nowadays, for reasons I'll go into later. We were living in a very small house in rural Shropshire, near Bishop's Castle, and we were gravitating towards Wales – we really wanted to start a smallholding, and we were looking for things – sustainable, interesting things – that might make us a few pennies on the way. The house was one-up, one-down. We slept upstairs with our small child, and Kevin turned the downstairs into a basketmaking workshop. Kevin was an archaeologist and I'd been travelling and doing all sorts of things. We both wanted a change, and as I said, we wanted to work towards getting a small farm.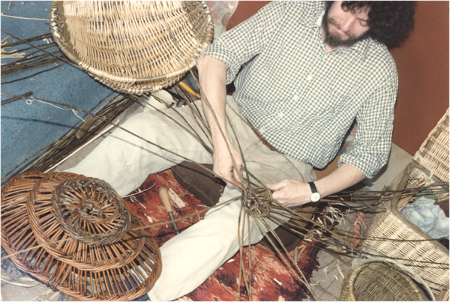 LI: How did you sell your baskets?
FB: We just put them outside the house, on the street, with a price tag, and people knocked the door and bought them. They were really practical things, bought by practical, rural people. We made a living. Today, we'd probably sell them via the internet and at events and festivals. We have friends who make their living from basketmaking, and they often sell out at festivals. They do about 8 festivals per year, and sell enough to live for the rest of the year.
LI: How easy is it to make a living from making baskets?
FB: Well, the really important thing is that you have to be fast. If you're a really practical person anyway, you'll probably be fast enough, but if you're not particularly practical, you probably won't be. Kevin could make 2 big baskets in a day – for example log baskets or big washing baskets. These can sell for about £50 each now – so that's £100 per day. That's not every day of course – some days you'll be selling, some days you'll be cutting willow, but generally, as long as you don't have expensive tastes and you can keep your costs low, you can make a reasonable living.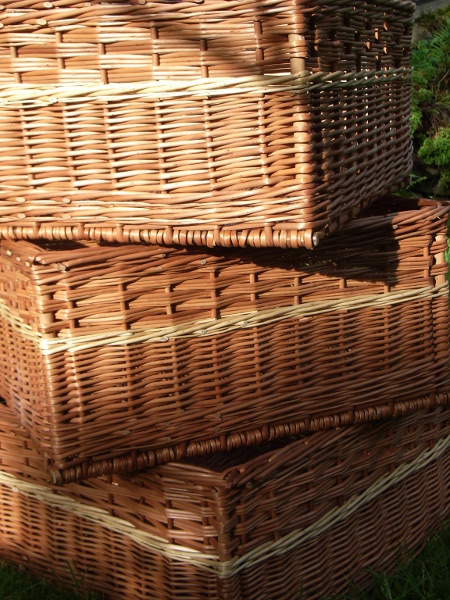 LI: So willow is the plant to use?
FB: Yes – we used to cut wild willow sometimes, or buy it, but then we got a bit of land in Wales and grew our own willow. It grows really fast. Back then, we grew all 10 varieties of willow available in the UK. Today, at Old Chapel, we grow 35 varieties, and our friends grow 100. Many of them have been brought in from other parts of the world and they grow well in the UK. We're in upland Wales, so we can't grow all varieties, but you can buy other types of willow from elsewhere in the UK – they grow a lot in Somerset. So now there are lots of different colours to choose from. There used to be just green (with the bark on), white (with the bark taken off) or brown (boiled, so that the bark comes off and it turns brown). Nowadays you can get baskets made of lots of different coloured willow. You can also use other things from the hedgerow to add colour/ texture which can be fun eg dogwood, honeysuckle, old mans beard, bramble – but just for bands.
LI: Why basketmaking?
FB: We didn't have any money, so we were looking for something that was very cheap to start, and didn't need much in the way of tools or specialist equipment.
LI: How did you learn how to do it?
FB: We went on a few courses, then bought a few books, that contained patterns for making different kinds of baskets.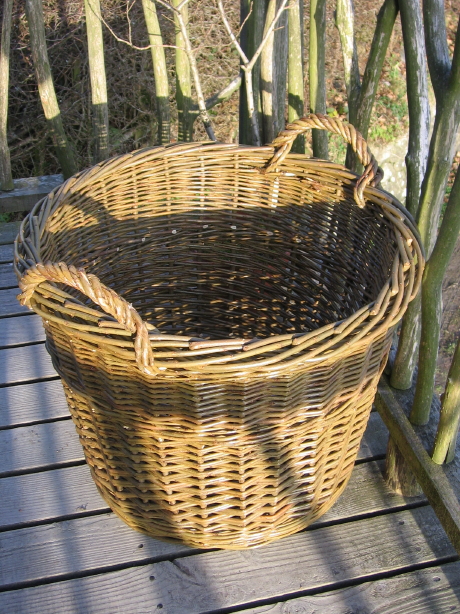 LI: Which were the most popular ones?
FB: 10 different kinds of shopping basket, log baskets, wastepaper baskets, bicycle baskets and hampers. Kevin liked the unusual ones, like salmon traps or eel traps, but not surprisingly, they were more difficult to sell. My favourite was a potato picker's basket. We also made fishing baskets, which have a smaller market, but are fun to make.
LI: Do you still make baskets?
FB: We have a farm now, so we're much busier, and we have other sources of income, but we make baskets sometimes. And Kevin runs basketmaking courses here sometimes too.
LI: How long did you make your living from basketmaking?
FB: For two years.
LI: Do you think it's a viable way to make a living nowadays?
FB: Definitely – more so than when we were doing it. I think demand is much greater than supply. People like natural, hand-made craft products. Almost everyone would prefer a hand-made wicker washing basket over a plastic, factory-made one – and they make great presents. Our friends sell out every time they go to an event – especially if they make baskets during the event. People are drawn to people making things, and then they can't resist buying one.
LI: People can learn to do it themselves, can't they?
FB: Yes, people can learn – they often make a couple of baskets, but they won't be as good as the baskets a skilled person makes, and they realise how much work goes into them; after that, they will buy baskets and support craftspeople.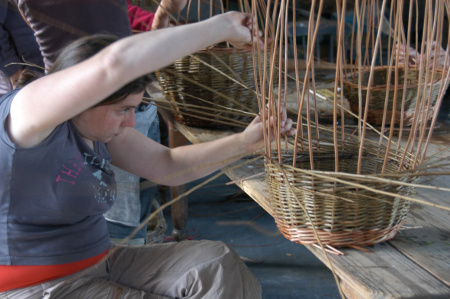 LI: Any tips for people thinking of a career in basketmaking?
FB: Just give it a go – you don't need to register anywhere, and you need very little investment. Just go on a course or two and give it a go – you never know, you might be a natural. Speed is crucial though, if you want to make a living. But as I said, if you're quite practical, you'll probably be fast enough. You're not going to become rich from basketmaking, but if you enjoy it, it's a really pleasant (as well as sustainable) way to make a living – sometimes you'll be alone, at home, doing creative work, and other times you'll be at festivals, surrounded by people. It's a nice contrast. Plus sometimes you'll be out in nature, cutting willow. You'll be registered self-employed, you can be completely flexible when you work, so you can do other things around it – and if you don't manage to sell enough, you might be able to get working tax credits to top up your income. You'll need space too – about 10ft diameter somewhere for a big basket, and if it's in the house, you'll need an understanding partner. But an important thing to remember is that you can just try it – make a few baskets and try to sell them – see how it goes. Basketmaking can complement other work, and once you have the skills, you can use them to fill in the gaps between other work. Making baskets can be your main income, or just supplement other jobs.
Fran and Kevin live at Old Chapel Farm near Llanidloes, a beautiful part of Powys, where they run the Wilderness Trust, keep rare breed sheep, make wine and cheese, milk their Jersey cow, rent out yurts for holidays, host WWOOFers, run courses and are creating a living, working neolithic village, complete with thatched roundhouses and animals and farming techniques of that era.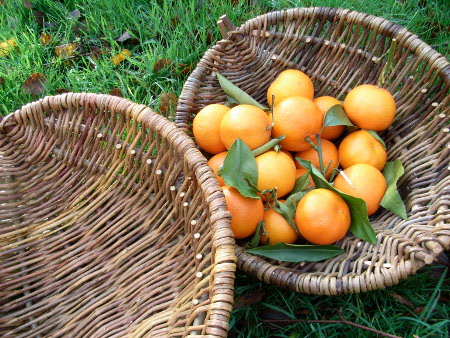 ---
The views expressed in our blog are those of the author and not necessarily lowimpact.org's
---
Leave a comment