Posted February 4th, 2014
Free education the low-impact way: welcome to the Happy Pig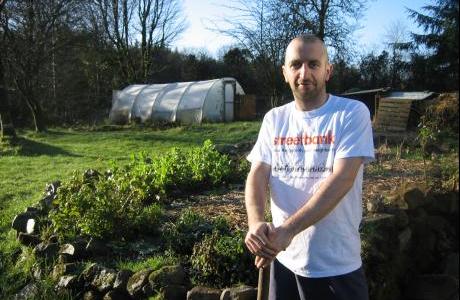 An Irish permaculture project and gift-based community, has launched an all-or-nothing crowdfunding campaign to renovate an old pig barn – The Happy Pig – and create a unique venue pioneering permaculture and gift economics. The project is also the home of Mark Boyle (pictured), formerly the 'Moneyless Man'
Free permaculture education. Free accommodation. Free home-brew. And especially, free thinking. These are just some of the things which An Teach Saor (Irish for 'The Free House') want to share with the world, through the low impact renovation of an off-grid venue which we hope will host some of the world's best counter-cultural thinkers and teachers in Permaculture, gift economics, wild food, bushcraft, herbalism, storytelling and much more.
Since taking over a three-acre smallholding in Galway, Ireland, we've started the process of turning a degraded bit of land – a former pig farm – into what we hope will be something of a nature reserve for the coexistence of humans and other species, a place to reconnect with community and more sustainable modes of living. We are in the process of returning the land to a state of semi-wildness, having so far expended our resources planting almost a thousand trees in the form of native woodland, coppice woodland, forest garden, an experimental nut orchard, along with a no-dig annual vegetable patch and humanure composting systems. Echoing natural systems, we're hoping to close the loop in as many ways as we can, removing concepts like 'waste' and 'weeds'.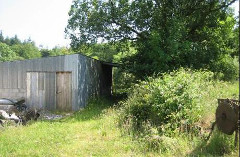 Our venue is currently a ramshackle, leaky old pig barn, in need of copious amounts of love and natural building materials. What we can create on its considerable 12m x 10m footprint though, if we can fund the initial set-up, has huge potential. Imagine entering a straw-bale insulated building, complete with a warm workshop and event space, a rustic bar serving home-made cider or dandelion wine made from resources on the land, benches heated by a rocket stove mass heater, and hot showers after you've been out on the small-holding, combining permaculture theory with the practice which surrounds you.
We're delighted to be able to offer some stellar rewards – for those who may want them in exchange – thanks to the support of friends such as the UK's foremost wild food forager, Fergus Drennan, Paul Kingsnorth, celebrated author and co-founder of the Dark Mountain Project, and Irish artist Damien McCarron.
If we don't hit our crowdfunding target in coming weeks, we'll be left where we began, with a (literally) shitty pig barn.
So, once you've helped in whatever way you can, by donating or sharing this article, all that remains is to decide on the age-old question: "Would you rather be a happy pig, or a miserable philosopher?"
Thomas Smith
Co-founder of An Teach Saor – The Free House, Co. Galway
Support Our Crowdfunding Campaign @ http://www.crowdfunder.co.uk/thehappypig
---
The views expressed in our blog are those of the author and not necessarily lowimpact.org's
---
Leave a comment