Posted February 6th, 2015
Getting off-grid: developing a wood gasifier in the woods in darkest Buckinghamshire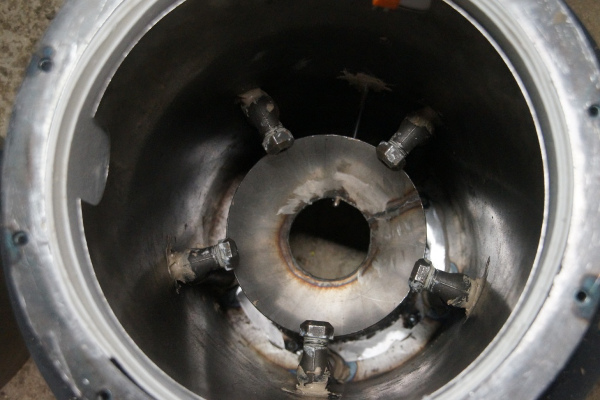 As industrial society continues on its capitalist and consumer-led treadmill, its detrimental effect on ecology and the environment are accelerating whilst the returns diminish. As a counter to this, a growing number of people across the world are building communities and working to become independent and to consolidate their own renewable power, water and food supplies. The depth of creativity, endeavour and skill in all of these areas is a constant source of inspiration.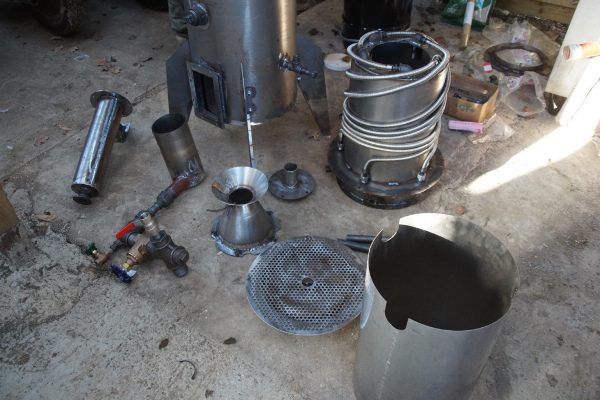 For our energy needs we are continually developing an off grid power supply to serve lights, computers, central heating pumps, refrigeration and other occasional large and small loads.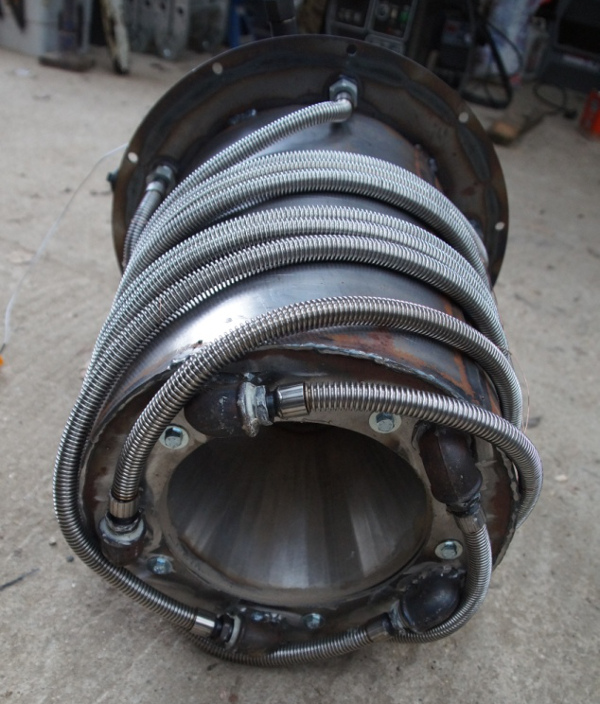 We established a 5kW solar power system in 2013 and then a year later a 1kW (max) wind turbine was added to provide extra power during strings of gloomy winter days, both feeding into a 20kWh battery bank. Further to our initial aims we decided that a workshop facility would be an incredibly useful addition and now run workshop equipment including a MIG welder, plasma cutter, compressor etc. from the same system with very occasional use of fossil fuel run generators.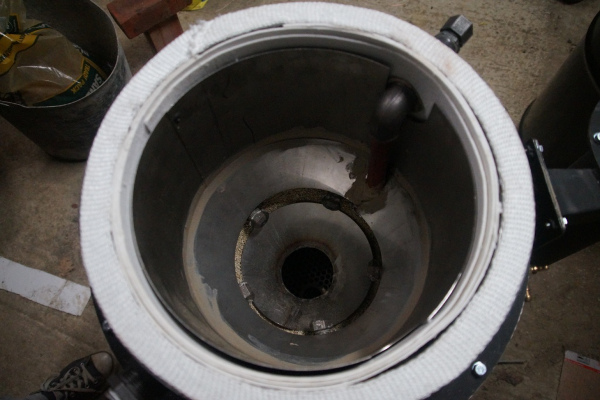 However in order to cut out dependency on fossil fuels altogether and to utilise the immediate resource of the woodland we decided to attempt the incorporation of wood gasification equipment to supply woodgas (syngas) to power a generator.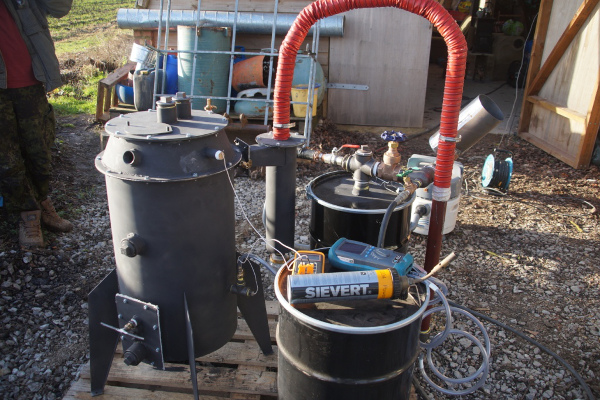 Surprisingly, gasification technology has been around since the late 1800s, and wood gas powered vehicles were used during World War II when petrol became scarce and was rationed. (Wikipedia – Wood_gas_generator.)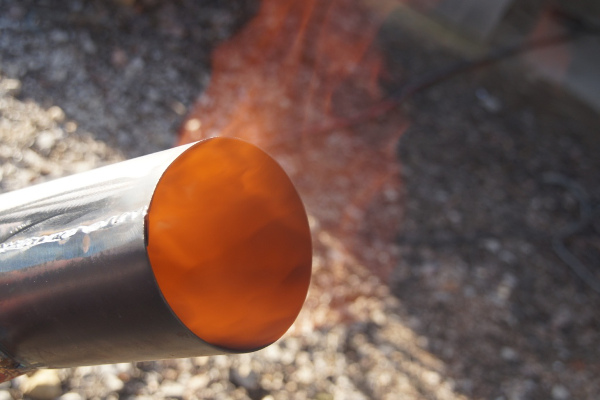 Basing the design on the open source plans by All Power Labs (see GEK gasifier kits) we have fabricated the reactor and basic filtration components of the process. The photos show the process of fabrication and testing so far, burning the gas in a swirl burner.  The design is an Imbert downdraught gasifier with an expected output of around 10kW.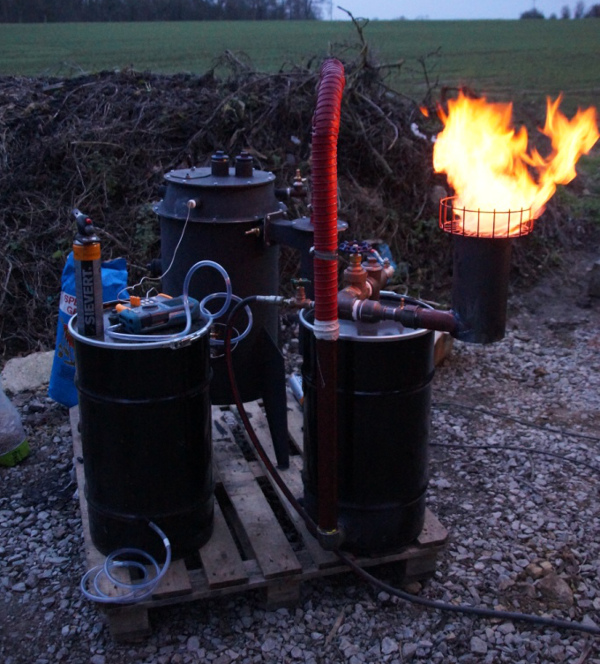 Temperatures and pressures are monitored during operation and well over 800 degC was reached in the pyrolysis chamber on the second run. The next stage is to refine the gas filtration to clean and cool the gas, before attempting to fuel an engine with it.  Suitable engines must be low revving as the flame speed of syngas is slow.  We are planning to use an Onan generator as (most of) these run at 1500rpm compared to 3000rpm for a standard Honda based generator.
More soon. Post any questions below.
---
The views expressed in our blog are those of the author and not necessarily lowimpact.org's
---
3 Comments
Nick Cummings February 6th, 2015

Hi,

can you use the syngas to fuel a conventional Boiler ? Or do you need to adapt it ?

And would it be more efficient than just burning conventional logs, or wood pellets, in conventional burners ?

Thanks !

Nick.

Ed Morriss - replied

February 6th, 2015

Although we've not yet experimented with compressing syngas, we are reasonably convinced that it is viable. Once bottled it could be used for running a small butane stove. Syngas has a lower calorific value relative to propane, so it remains to be seen whether any modification would be required. it might however, be suitable older boilers with cast iron heat exchangers as they are less scrupulous about the composition of the gas. Whether compressing the gas using solar power becomes prohibitive is yet to be determined.

If you have a wood burner that uses an element of gasification and/or thermal mass then it would be more efficient than a conventional burner. The aim in this case is to run an engine by turning wood into gas. There are losses inherent in the process, in that the radiated heat from the pyrolysis chamber is not captured, except to heat the workshop whilst it's running maybe.

Andrew Rollinson - replied

February 19th, 2015

The efficiency comes from not having to heat water to generate electricity. With a gasifier it is direct gas to energy (so no working fluid).
There is also increased efficiency because it can be combusted at higher temperature – Carnot's theorem.
The main benefit of gasification for low impact living is that it is a way of getting small-scale and sustainable off-grid electricity from waste wood that is created as a natural by-product of land management. It is a sustainable version of a diesel generator.
Andrew
http://www.blushfulearth.co.uk

Ed Morriss February 6th, 2015

We're currently prepping the intake cooler, a cast iron radiator salvaged from a mansion house, and air filter. Once these are in place we should be able to test run the 6kva generator that is all ready with ignition timing slightly advanced to allow for the slower flame speed of syngas.

Paul - replied

February 10th, 2015

Ed, you will probably requrie the syngas to be filtered (unless this is what you meant), you will have problems with the engine if not. I suggest a simple cartridge filter which could possibly be backflushed (to clean) on a regular basis. I designed the control system for a large scale commeercial gasifier system and am very familiar with all the processes incolved so please feel free to ask any questions.

Paul February 10th, 2015

One thing people need to be aware of with gasification is to only use non contaminated wood, waste wood will contain impurities which may be harmful, in this case the syngas would require buring for a minimum of 2 seconds in a combustion chamber to ensure all traces of anything harmful were destroyed. I have designed the process control for a full scale commercial Gasifier system producing 6 MW so if anyone needs any advice please feel free to ask.

Ed Morriss - replied

February 10th, 2015

Hi Paul, that sounds like an immense project! Thanks fro your advice. I have just designed the air filter box using an easily removable Land Rover TD5 filter cartridge. This is right before the inlet in the usual arrangement for a petrol engine.

As the manufacture of pellets or wood chips is quite energy intensive, we are arriving at the conclusion that it would be more efficient to burn charcoal, having used the heat created in the process to heat water and to create some Biochar also. Sounds feasible?

Andrew Rollinson - replied

February 19th, 2015

Contaminated waste wood could be used. "If it burns, it will turn….the engine". The formaldehyde glues used in waste wood, and paint, will thermally decompose to a great extent too. You'll have tar anyway, which will need filtering. Use a steel cylinder with wood chips and this acts as a very effective passive tar filter. The filter media can be put back into the reactor (blended with the new feedstock) and this second run through will crack a lot of the captured tar.
The major consideration with waste wood is that it cannot be reconstituted. Pellets (as Nick asked) cannot be used. They'll run for an hour maybe until the reactor clogs but then you'll find that you'l need to do a full clean out of the reactor bed. The problem is that they are too friable and cause high pressure drop; with the other negative being that they swell when coming into contact with moisture.
Andrew
http://www.blushfulearth.co.uk
Leave a comment