Posted October 21st, 2014
Help put energy into the hands of local people, and make yourself a bit of money at the same time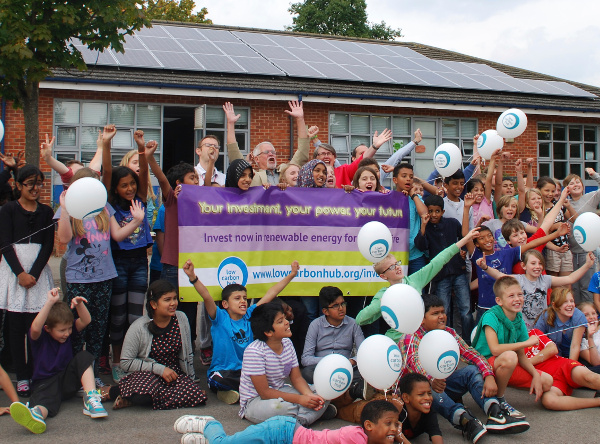 The Low Carbon Hub has just launched its 2014 community share offer to raise £1.5 million investment into its first wave of renewable energy schemes for Oxfordshire. This will fund 1MW of solar PV installations on 18 schools (like Larkrise Primary in East Oxford – above) and a number of local businesses across the county. The sale of shares in local renewable energy projects will mean that they will be 100% community-owned, putting local power in the hands of local people.
The Low Carbon Hub is both a commercial venture and a community-based organisation which is raising millions of pounds to put renewable energy generating assets (many of which are already constructed and are generating commercial returns) into community ownership via a share issue.  We are interested in large or small applications (largest £100,000, smallest £250).  We aim to raise about £1.5million in this issue, and so far have applications for about £500,000 a couple of weeks into the offer period.  More details of the offer are available at www.lowcarbonhub.org/invest where you can invest online if you prefer, download the share offer document etc. Investors will receive an average return of 5% or up to 8.2% for those eligible for tax relief via the Enterprise Investment Scheme (EIS).
There are a number of informal gatherings in Oxfordshire over the next month or so which are intended to provide opportunities for face-to-face briefings about the Low Carbon Hub,  our exciting plans for a step-change in the level of renewable energy generation in Oxfordshire and, of course, our share offer (which closes on 28th November).
---
The views expressed in our blog are those of the author and not necessarily lowimpact.org's
---
Leave a comment